Published: June 14, 2012
SHANGHAI, PEOPLE'S REPUBLIC OF CHINA | EDI Precision Dies (Shanghai) Co. (EDI China), a wholly owned sub. of Extrusion Dies Industries, will move to a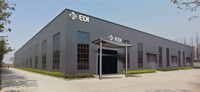 new location in Shanghai August 1 of this year. The new facility reportedly will expand substantially EDI's product and service offerings to customers in China and make possible local manufacture of value-added extrusion die systems.
The 5,000-sq-m facility will include greater production capacity and an expanded technical staff, reports Jason Q. Yin, general manager of EDI China. He adds, "The new Shanghai operation will enable EDI China to offer high quality film, sheet, and extrusion coating dies designed by EDI engineers in the USA, built right here in China, and sold at competitive prices on short lead times. Our
customers will have ready access to local EDI China technical sales and support specialists as well as an expanded aftermarket program including remanufacturing, system enhancements, and services such as spare parts and on-site technical support."
The locally built dies will range from basic systems to dies with value-added features such as automatic profile control. More complex or high-end systems will continue to be designed and manufactured in the US. Besides dies, the new facility will supply feedblocks and ancillary equipment. Aftermarket services will be available for dies of all types, whether built in Shanghai or at EDI's world headquarters in Chippewa Falls, WI.
This email address is being protected from spambots. You need JavaScript enabled to view it.