Published: May 31, 2004, By Edward Boyle, Contributing Editor
Ritrama relies on its coating expertise—and innovative adhesives—to hook new customers.
At the Minneapolis office of Ritrama Inc., a manufacturer of pressure-sensitive films and specialty papers, company president Daryl Hanzal won't say what he used to catch the 63-in.-long barracuda that hangs on his wall, but he is happy to describe the lures he uses to land new business.
The business philosophy starts with goals of responsiveness, innovation, and flexibility. First, most orders ship on the same day. And, while some label converter customers might specialize in filling large orders or small custom orders, Ritrama welcomes the business of both. That's because its multiple coating machines give the privately held company the flexibility to meet the needs of customers large and small.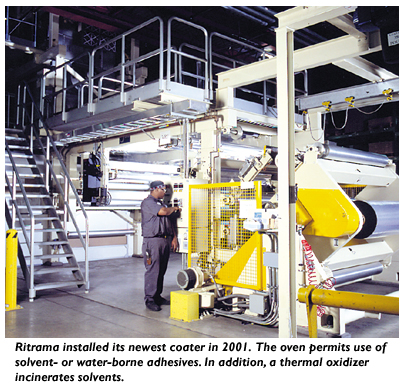 "By offering roll-fed or sheet film with water-borne or solvent-borne adhesives, we're a one-stop shop with full-service abilities," says Hanzal. The company's major expertise lies in converting prime label substrates for such markets as health and beauty, prime, and beverage labeling. With sister operations in Italy, Spain, and the UK, and another in Cleveland, OH, multinational end-users can specify and get same-spec jobs handled quickly and professionally.
A Team Approach
The company's innovative approach results from a true "team philosophy" of meeting customer needs. The sales force routinely offers the development teams insight into what's happening in the marketplace. Each salesperson receives training on how to identify future needs and market trends. Within the company, various groups meet regularly to find and exploit opportunities to improve operations. The groups focus on technical solutions, manufacturing, sales and marketing, materials, and quality.
Ritrama's employees also have a keen focus on quality in all aspects of their work. ISO-9001 ensures a systematic and documented approach to product and business development. Also, a fully equipped quality control laboratory allows the employees to generate data after performing various tests to verify product performance. The testing also guides development. The controlled environment lab includes a laminator with controllable nip for production of 8x10-in. hand sheets. For larger samples, the employees use a pilot coater.
Allison Faber, a product development chemist, uses state-of-the-art analytical equipment at the Minneapolis facility to measure different aspects of performance. She explains that since most of their customers print the labels, the lab uses various techniques to measure the surface treatments of the films to determine how well inks will adhere to these surfaces. She checks adhesive performance by evaluating peel strength, tack, and shear.
"We're a customer-driven company," says Bryan Baab, technical director for Ritrama. Ideas for improving current products and services and for developing new products come directly from the sales force, which receives special training to identify what customers need to achieve success. The salespeople convey these to the plant and manufacturing personnel, who discuss how to help customers and operate profitably. Technical directors also meet regularly to talk about service status and projects to ensure progress on new products and processes as well as coordinate current orders to ensure customer satisfaction.
"We look at the trends regularly and think about how we can optimally match materials and operations to best meet emerging customer needs," says Hanzal. "As an example, we knew the market was moving away from static cling due to problems with printability and shelf life. We then developed specialty adhesives for removable window graphics so we were able to meet this need as customers began to ask for improved products."
His team of progressive managers also had answers ready for a customer who was working on a seal and reseal closure for pouches containing wipes. At the same time, thinner films were needed. By using the company's test lab, they already had prepared performance data on loop tack and peels from three different films.
Thin Is In
State-of-the-art coaters and slitters are another lure for current and potential customers. Their newest coater represents the latest technology in adhesive application and web handling. With multiple slitters, Ritrama can fill orders quickly, even when several customers need deliveries as soon as possible. Programmable controllers help the slitter set up for repeat jobs.
In its quest for quality, lab employees routinely check for the presence of topcoat before beginning to work with film and continuously check film thickness on line. If the film is supposed to be opaque, it is checked for opacity with a specially designed opacity meter. Once adhesive is coated onto the film, Ritrama quality control personnel check for profile shear and peel.
The company stocks a wide range of films in its two US facilities, which total 200,000 sq ft, including vinyl, polypropylene, polyester, polyethylene, acetate, Tedlar, polycarbonate, acrylic, cast vinyl, copolymers, and calendered vinyl. Ritrama's Cleveland plant makes cast vinyl film that is available in metallic, opaque, or translucent versions. One or more of these will serve well for container materials, such as high-density PE, low-density PE, polyethylene terphalate, polypropylene, glass, polyester, polycarbonate, vinyl, polystyrene, various grades of steel, aluminum, and galvanized metals.
Ritrama also selects its suppliers carefully. For example, it uses adhesives from National Adhesives "because they are consistent from batch to batch, they work well out of the drum, and service support has been responsive," says Hanzal. Ritrama uses Duro-Tak adhesives. Ritrama's managers also prefer to work with National Starch because of its reputation for regularly bringing better performing adhesives to market, he adds.
"We look at National as part of our development group," says Baab. "Our customers expect us to know where each adhesive is best used and what the optimum thickness will be. We anticipate the trend toward thinner films will continue as our customers face pressure to cut costs while creating greater shelf appeal through brightness, color, and shape."
Global Capability
Since the Minneapolis operation is part of a multi-faceted group, it is easier for Ritrama to develop products made with the same "recipe" for each of its global customers. Therefore, they can ensure a uniform look to the graphics and be assured labels will perform equally well on various continents. "We can supply the exact same construction of film and adhesive here or there," notes Baab.
Before 1988 Ritrama's Minneapolis operation was called Universal Coating, which was founded in 1963. It acquired Northcoast Specialties in Cleveland and in 1988 became Universal Duramark. Ritrama, a family-owned company, acquired UDM in 1990. The acquisition has helped the US operations grow, since more capital became available for investing in better machines and technology, according to Hanzal. Today, there are Ritrama sales people in Atlanta; Chicago; Hartford, CT; Los Angeles; Minneapolis; and Wichita, KS, and warehouses in Chicago, Cleveland, Los Angeles, Minneapolis, Orlando, and Wichita.
"Ritrama is growing at twice the market average," says Hanzal. Clearly, the lures of responsiveness, new product development, better service through training, and advanced equipment are paying off.
And that's no fish story.
---
Converter Info
Ritrama Inc.
600 Kasota Ave. SE
Minneapolis, MN 55414
612/378-2277; ritrama.com
---
Supplier Info
National Adhesives— nationalstarch.com
---