Published: March 28, 2016
FILDERSTADT, GERMANY | HERMA reports the introduction of HERMAsuperTack (63Vst), said to be a completely resin-free adhesive for labels that require extremely strong initial tack.
Offering low-migration levels, the adhesive features correction factor 2 and is said to reach the unconditional approval for dry, moist, and fatty foods. "We are coming closer than ever to the zero migration benchmark," says Dr. Ulli Nägele, HERMA's head of R&D, adding that, due to that and its excellent initial tack, adhesive is ideally suited for labels that are applied to whole sausages or raw ham without a barrier layer made of film.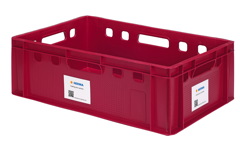 "The lower the resin content, the lower initial tack and final adhesion, especially on films," says Nägele, "but by applying our multilayer technology, we were able to develop an adhesive that does enable us to dispense with resins—without any compromises."
Company says range extends beyond food labelling and, even at temperatures below –20 deg, does not lose its tack. Also, says company, due to its temperature resistance, HERMAsuperTack is also suitable for foodstuffs that have been recently heated, such as boiled chicken. In such cases, there is usually a great amount of heat and moisture beneath the packaging film. Reportedly, product's excellent tack also predestines the adhesive for 3D, irregularly shaped surfaces, ranging from shrink-wrapped raw ham to pre-packaged poultry cuts.
HERMAsuperTack is said to be processed as easily as conventional dispersion adhesives. It is available in combination with the label materials HERMAtherm M (912) and HERMAwhite super (240).