Published: August 02, 2012
TORRINGTON, CT | Dymax Corp. reports the Model 475 valve dispensing system utilizes a pneumatic, normally closed diaphragm valve to dispense accurately low- to high-viscosity fluids. The design of the internal diaphragm and adjacent parts prevents migration of fluid into the actuating section within the valve.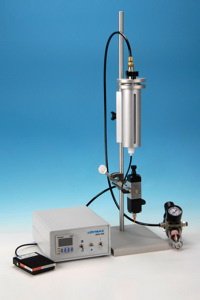 Company says the toughness of the diaphragm, along with the selection of appropriate materials for component construction, ensures long diaphragm and valve life between maintenance schedules, and these features also make valve systems ideal for dispensing light-curable materials as well as reactive materials such as cyanoacrylates, anaerobics, and solvent-based products.
Accurate, repeatable performance is said to achieved easily by utilizing the valve's stroke adjustment knob to precisely dial in a desired shot volume. The included 25-micron air filter regulator permits the passing of only clean, dry, particulate-free air, ensuring the system's long and continuous life. The regulator includes an integrated shutoff valve and pressure exhaust to depressurize the system quickly and safely, eliminating the need for the operator to open and close the regulator.
This email address is being protected from spambots. You need JavaScript enabled to view it.