Published: June 04, 2015
WESTERLY, RI | Maxson Automatic Machinery Company offers a feature on its precision sheeters that reportedly avoids the secondary restacking of piles prior to feeding the skids into a printing press. The design allows the operator to offset the tail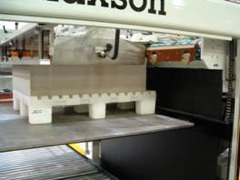 end of the sheeted stock from the back edge of standard sized skids. As a result, there is no need for the intermediate step of aerating and re-jogging the piles prior to loading into the printing press feeder.
The vibrating back jogger system mounts at the end of the delivery system and protrudes out over the stacker's load table. By positioning the standardized pallet against the stacker's backstop, up to 6 in. (152 mm) offset of the pile, relative to the skid, can be achieved.
In this design, compressed air is introduced at the end of the delivery system to help float the initial sheets so the leading edge does not get caught in the slots of standard sized pallets. Pivoting pucks within the back jogger turn down to the skids, insuring the bottom sheets of the pile do not drift out of position because of variation in pallet height.
This email address is being protected from spambots. You need JavaScript enabled to view it.