Published: March 16, 2015
FAIRFIELD, NJ | AZCO Corporation has designed a custom sheeter system used to unwind, cut, and stack a 29-in.-wide roll of 0.003-in.-thick aluminum material.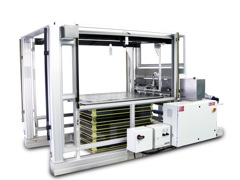 The process begins with the roll of material loaded onto a motorized, single-shaft unwind. The unwind is equipped with a dancer attachment and idler roller to maintain web tension and alignment. All rollers are urethane coated for uniform grip of the material. An end-of-roll sensor alerts operator when the roll is out of material.
The aluminum is cut into 50-in. sheets. A set of grippers holds the material coming from the cut-to-length unit. Once the material is held in the gripper, the cut-to-length unit indexes the material; at the same time, the linear actuators move the material into position, over the stack.
The automated stacking system creates 12-in.-high stacks, after which the machinery stops the operation and a visual alert is displayed on the light tower. An operator removes the completed stack product and places a new tray onto the stacker to resume production.
Company says PLC controls and HMI color touch screen are provided for easy entering of operator information, including cut length, run time, and number of cut pieces.
This email address is being protected from spambots. You need JavaScript enabled to view it.