Published: March 05, 2015
WESTERLY, RI | Maxson Automatic Machinery Company reports a dual motor drive retrofit allows a converter's older sheeters to remain competitive with today's precision sheeters.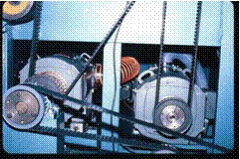 On older dead knife sheeters, this retrofit replaces a cutter's existing wear-prone mechanical transmission or older electronics drive with a more reliable electrical system. This drive system allows cutoff lengths to be set in seconds, assures accuracy levels, and reduces maintenance levels of drive components, according to company.
Within company's electrical cutter drive, two AC vector drives are used. Each drive package governs an AC servo motor. The first motor is coupled to the draw drum, the second drives the knife revolver. Utilizing a microprocessor to govern two AC drives, sheet length accuracy is consistently maintained to within ±0.015 in. (±0.381 mm), regardless of cutoff or change in line speed.
The retrofit kit allows the operator to input the cut off at the touch of a keypad. Sheet length and line speed can be toggled between imperial and metric units. Counting screens monitor total sheet count and can be configured to accommodate number of webs being sheeted as well as the number of piles being produced.
A "Knife Maintenance Count" monitors the ongoing number of knife cuts, to be used as a preventative maintenance tool to schedule blade changes.
This email address is being protected from spambots. You need JavaScript enabled to view it.