Published: January 06, 2015
WESTERLY, RI | Maxson Automatic Machinery Company outfits its high-speed precision sheeters with a reject gate design said to make certain that defective sheets are separated troublefree from acceptable product at speeds to 1,300 fpm (396 mpm), even on lightweight materials.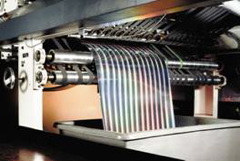 The reject gate on company's sheeters is capable of diverting one or any number of successive sheets at speeds to 300 cuts/min. This assembly utilizes sensors to time the directional flow of sheets cut and the movement of the tape system. When the rejection system is activated, a direction gate alters the flow of sheet to a customer-supplied bin.
Through a drive arrangement, the slow speed tape system is stopped; positioning the last acceptable sheet cut on the slow speed tapes. Company says this feature eliminates potential jam-ups at the overlap section when the flow of the sheets is resumed to the stacker, by ensuring the oncoming sheet's leading edge positively overlaps the trailing edge of the last acceptable sheet.
Operator controls for the reject gate are mounted at the cutter infeed station and at the main operator console. The reject gate also can be automatically initiated by a splice detector or web inspection system.
This email address is being protected from spambots. You need JavaScript enabled to view it.