Published: November 30, 2005, By Nsenga Byrd Thompson, Associate Editor
Flexographic Printing
Eighteen-hour work days—not to mention countless weekends—are commonplace for Lars Christiansen, corporate managing director of his newly established company, Christiansen Print. Christiansen and a committed staff of 25 employees demonstrate this strong work ethic in an effort to meet the company's main objective: to operate the most impressive preprint plant in the world.
At the center of this mission is the plant's colossal eight-color Fischer & Krecke Flexpress 96S-8 flexographic press, which at a 98.4-in. web width, is said to be the largest flexographic press of its kind for the preprint industry.
Love at First Sight
Christiansen is no stranger to Fischer & Krecke's portfolio of flexo capabilities. He spent several years with one of Europe's largest converters, the Kappa Group, and as managing director of Kappa's preprint operations, he was introduced to the capabilities of Fischer & Krecke.
"F&K had developed a new technology in 2000—direct-driven machines—a technology mainly used in the flexible packaging industry," recalls Christiansen. "I saw the potential of this technology, but Fischer & Krecke wasn't able to do it in the big machines like we had. We had a printing machine with a width of 2 meters, 50 centimeters. Our printing length went up to 2 meters, so you can imagine that we were dealing with very big printing cylinders. But after some years of development, F&K came back in 2003 and informed me that they were able to build that big machine. I could see the huge potential."
In 2003 Christiansen decided to venture out on his own and left Kappa, but he didn't leave his vision for the F&K technology. Finding an investor to finance his ambitious business plan, Christiansen, a Danish citizen, decided to build his company in the town of Ilsenburg, Germany.
"In former Eastern Germany, there were some good possibilities for establishing new companies, as well as tax reductions. Support from the [German] government and the European Union made it possible for a small guy like me to invest in a plant like this," he says.
The 4,600-sq-m plant was built from the ground up and has been in production on the Flexpress 96S-8 since March, already operating three shifts.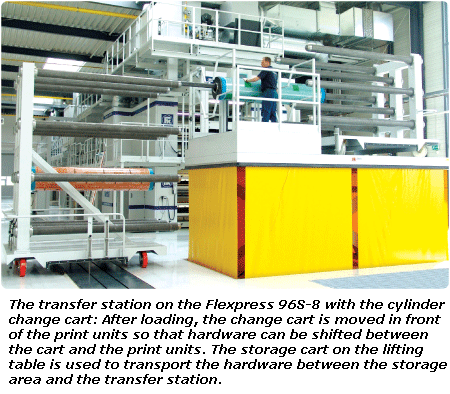 The Flexpress 96S-8 includes a third-generation Advanced Vision Technology monitoring system and a downstream F&K unit for lacquering.
"The capacity of the machine and factory are enormous," says Christiansen. "We actually are increasing capacity on the whole European preprint market approximately eight to ten percent. There's quite a lot of capacity coming into the market with this factory."
Having invested an estimated ,14 million, Christiansen maintains his plant is the most modern preprint facility in the world. "The [Flexpress] is very much the reason for that statement. It's a factory built around this very big printing machine. There are only two machines of this kind worldwide, and that really is a very big step forward in the preprint industry. It's really something that has moved the market and created a lot of attention in the corrugated industry in Europe," he says.
Built to Impress
The massive size of the Flexpress 96S-8 definitely can be touted as impressive, but Christiansen asserts the big advantage of the press is its speed and job changeover times.
"That's one of the most essential concepts. It makes the factory much more productive, so I can get more square feet from the machine on a yearly basis. I think the capacity of the machine is double the machine of five or seven years ago. So it's really an increase in productivity, and that means my variable cost per square foot or square meter is lower."
Christiansen also credits the printing cylinders, which are made of carbon fiber, for the machine's incredible speed. "It is a very modern technology. [Carbon fiber] is very lightweight, so my cylinders do not weigh a lot," he explains. "The sleeves are also lightweight, which make it possible to run the machine at a much higher speed than normal.
"I know from my previous life as managing director [at the Kappa Group] that the average speed lies between 100 and 135 running meters per minute. We are already running between 200 and 250…we have done jobs and production at 460 meters per minute. It's a very fast machine, and it's made possible because of this carbon fiber technology."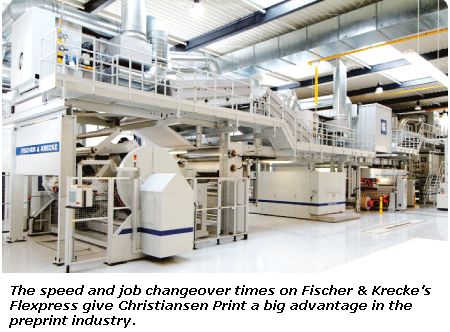 Flexpress 96S-8
Tech Specs
No. of print units
8
Overall length
135 ft. (41 m)
Overall height
26 ft. (8 m)
Web Width, Max
98.4 in. (2,500 mm)
Web Width, Min
Mechanical (Subject to Tension Requirements):
49.2 in. (1,250 mm)
Print Width, Max
96.4 in. (2,450 mm)
Approximate Dia. of CI Cylinder
126 in. (3,200 mm)
Concentricity of CI Cylinder
±0.0001 in. (±0.0025 mm)
Impression Adjustment Increments, Min
0.00004 in. (1 micron)
Register Adjustments Increments, Min.
0.0004 in. (10 microns)
Circumferential Register Adjustment, Max
Infinite variable
Side Register Adjustment, Max
±0.197 in. (±5 mm)
Print Repeat, Max
78.7 in. (2,000 mm)
Print Repeat, Min
30 in. (750 mm)
Press Mechanical Gear in Speed, Max
1,510 ft./min. (460 m/min.)
Type of Inks and/or Varnish to be Used
Water-based
Web tension range
250-3,100 N
Christiansen admits the investment has been costly, but the benefits have been ten-fold. "It's very expensive in the investment phase, but you get the advantages later on. The key factor is this direct-drive technology, which makes it possible for the computer to tell the machine exactly how the cylinders should turn. I can adjust the printing length just as I please. I can buy any sleeve, any size, and I can achieve any printing length within the machine's specifications."
Press specifications range from print lengths of 750–2,000 mm. "With the old technology, you have gears on the machine connecting to each other, and you always have to step in increments of 10 millimeters. To achieve a new printing length, you would have to buy another steel cylinder and the appropriate gear. [Now] I only need to buy a sleeve, which is less expensive, and if I buy one sleeve, I achieve several printing lengths by using various plate thicknesses…. This is one of the areas that really gives me a competitive advantage."
Revolutionizing Preprint
Christiansen says his customers now have a much greater chance at getting exactly the printing length they require, thereby reducing the excess waste that can cost his customers thousands of dollars.
"It's a kind of small revolution within preprint. It's really increasing the competitiveness of preprint. With the possibility of reducing waste and cost through the lower setup and higher speed, I'm able to calculate more, and I'm definitely more competitive in the low volume area. If you haven't got the volume…through the sleeve technology, you can make preprint competitive on lower volumes."
Christiansen says in the preprint industry in Europe, very few companies have invested in new presses in the past five to ten years.
"Most of the preprint machines standing around are old and run down. The reason is that the investment is quite big, and secondly, postprint has been developed a lot the past few years."
Because postprint is experiencing very high quality printing now, Christiansen says many in the industry believe it will drive the future of the corrugated industry, but he hasn't seen that become a reality yet.
"Preprint still lives and still is going strong. But it's still not strong enough that anybody has dared to invest," he admits.
With his investment in Fischer & Krecke's breakthrough technology, Christiansen believes he can showcase preprint's lasting viability within the corrugated industry. "I had to be the first one to make an investment."
So Christiansen won't slow down. He still will work the long hours and countless weekends and is looking to invest in a second machine in the next three to four years. He will settle for nothing less than world class. "It's a tough job, but we have all these advantages, and I believe very much in what I have done here."
---