Published: April 30, 2005, By Nsenga Byrd Thompson, Associate Publisher
Paperboard Packaging
Members of the Paperboard Packaging Council convened once again for the association's annual spring meeting, held March 23–25 at the Omni Shoreham Hotel in Washington, DC. Business sessions began with committee meetings. The Industry Information Committee discussed proposed data improvements; third-party research proposals [including a long-term renewal contract with Resource Information Systems Inc. (RISI)]; and the "Alternative Futures of Paperboard Packaging " research/project. The Marketing and Communications Committee discussed projects being implemented through its alliance with the American Forest & Paper Assn. and the Paperboard Packaging Alliance. The Government Affairs Committee heard a discussion on critical manufacturing issues led by special guest Michele Mire, international trade analyst for the Dept. of Commerce.
The Outlook and Strategies Conference began with Steve Dunning, Smurfit-Stone's strategist, who reviewed the half-year forecast update prepared for PPC by RISI. Highlights included expectations for the manufacturing sector to rebound (reportedly up 4%) from a nearly three-year slump; a gain expected for strong recovery in carton production (up 2.3% in 2004); and board price gains (key grades up 5%+ in 2004). Allan Boyle, head of creative design at Nestlé, presented a lively keynote address entitled "Paperboard Packaging's Competitive Edge." Boyle commented on the commitment paperboard converters have shown in improving package design, referring to past PPC award winners as examples.
Concurrent sessions included an interactive workshop led by Dr. John Stanton entitled "Riding the Wave of Critical Trends in the Food Industry." Stanton identified trends (such as the ever-growing need for consumer convenience and growth in the ethnic food market) and suggested ways converters can capitalize on these opportunities.
From 235 entries PPC received for its 62nd National Packaging Competition, judges awarded 12 Gold, 63 Excellence, one Innovation, and one overall President's Award. Here's a glimpse of the top winners.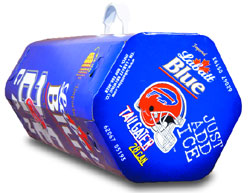 Game-Winning Carrier
MeadWestvaco Packaging Systems takes the President's Award for its Tailgaite'r beverage carrier created for the Labatt Brewing Co. Designed to hold 28 cans of beer conveniently, plus ice to keep drinks cool, the package is said to be ideal to pick up on the way to the big game or the neighborhood barbecue.
The 2-in-1 package eliminates the need for an extra cooler, as it includes a bag liner to catch water from melting ice, and its unique six-sided cylinder shape leaves less of a footprint on the store shelf than a normal case of beer, the company reports. A reinforced plastic handle provides an easy way to carry the package, and the tear-away section on the end gives consumers a way to fill the carton with ice and to reach its contents.
Reportedly, paperboard was chosen over mini-flute because of its flexibility and strength. The package is composed of six pieces of 27-pt coated natural kraft board and is offset printed. The Tailgaite'r not only is convenient but also provides eye-catching graphics and plenty of "billboard" space to advertise the product, the company adds.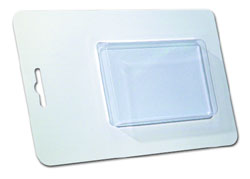 Pilferers Beware
Colbert Packaging Co. outshone the competition in the Innovation category with its Blisterguard carded package. The converter utilizes Everest Safe-Pak bleached board from International Paper, a heat-sealable, tear-resistant paperboard made with multilayer Valéron Strength Film, along with a clear plastic blister, to replace the plastic clamshell. Blisterguard is tear-resistant at the store yet easy to open with scissors.
Working with The Topps Co., Colbert introduced a way to display Major League Baseball cards effectively while counteracting theft. The tear-resistance of Blisterguard is said to ensure integrity of the product as well as the safety of an enclosed security tag.
To create Blisterguard, Colbert manufactures a fold-over board that encapsulates a plastic blister, forming a package that provides shelf appeal and security. The material is printed four-color process on offset presses and die-cut without additional equipment.
For a full list of winners, contact PPC at 703/836-3300; ppcnet.org.
---