Published: December 06, 2011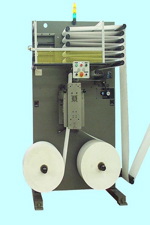 WEST CALDWELL, NJ | CTC Intl. introduces the CS1214 splicer, a smaller version of the CS1224 "clamshell" splicer, engineered for nonstop packaging and converting applications. This smaller version is 36 in. long, allowing it to fit in the most compact areas, and it can accommodate two full 14-in.-dia rolls.  
The clamshell splicer mechanism opens 90 deg into a horizontal plane, providing a flat work table on which to easier prep the splice. The two unwind shafts for the supply rolls are located at the bottom of the machine, close to the floor, minimizing material handling during roll loading.
The splicer also features company's "splice at any speed" system, which guarantees that a change in line speed during the splice will not affect the registration of preprinted materials. Many options are available.