Published: October 10, 2013
NORRISTOWN, PA | Rondo-Pak, a provider of quality folding cartons to the pharmaceutical, biotech, and medical device industries, has opened a manufacturing and distribution facility in San Juan, Puerto Rico. Reportedly, the new location will offer world-class climate controlled manufacturing and warehousing space and will give the company a foothold on an island known for its flourishing healthcare products manufacturing industry.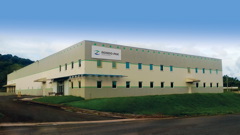 Company will use the 40,800-sq-foot facility to offer an option for pharmaceutical manufacturers seeking a reliable new supplier, as well as those looking for a secondary supplier to help minimize risk. It will also will use the facility to manufacture folding cartons and reports plans to expand the plant's production capabilities to include other printed packaging components.
"Our new facility in Puerto Rico provides an on-island alternative for [our] high quality folding cartons and packaging solutions," says Victor Dixon, president and COO of Rondo-Pak. "Supported by Korber's Medipak Systems and Rondo AG (Rondo-Pak's parent company with multiple manufacturing locations worldwide), our team of pharmaceutical packaging experts can address a wide variety of customer needs on-time and on-budget."
This email address is being protected from spambots. You need JavaScript enabled to view it.