Published: December 01, 2011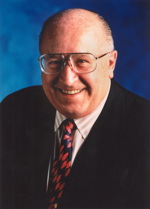 PASADENA, CA | Avery Dennison Corp. reports the death of Charles D. Miller, who as chairman and CEO officer from 1977 to 1998 was instrumental in transforming the company from a US-based manufacturer into a global Fortune 500 market leader in p-s labeling materials and office products.
Miller, 83, died at his home in Pasadena on Nov. 23 due to complications from emphysema.
"Chuck Miller's impact on Avery Dennison was immeasurable," says Dean A. Scarborough, Avery Dennison chairman, president, and CEO. "Every aspect of our business, from vision to strategy to execution to culture, has been shaped for the better by his passion and imagination.…" Miller served as CEO for 21 years, as chairman of the board for 17 years, and as a member of the board of directors for over 30 years. He continued to serve the company as a director emeritus until his death. Under Miller's leadership, annual net sales at Avery increased from $423 million to $3.3 billion in 1998.   
In addition to his business activities, Miller was active in many charities as well as in promoting both sports and liberal arts education.