Published: July 31, 2005, By PFFC staff
Notebooks
Perforated PINUP
Even the converting industry is getting into reality TV. To promote "Chasing Farrah," a TV Land cable network reality show, producers transformed the entire west side of the Hyatt West Hollywood Hotel on Sunset Boulevard into an image of actress Farrah Fawcett. Printer Inkjet Intl., Dallas, TX, produced the graphic using FLEXcon p-s vinyl materials.
The image, 108 ft high x 58 ft wide, used FLEXcon's FLEXmark BILBRD BWV opaque vinyl materials for the wall and SEETHRU-SIGN STSWBF for the windows, a perforated vinyl product that allows visibility through windows from inside the hotel.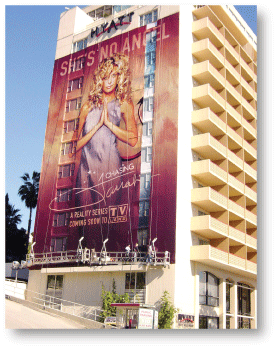 Jittu Sarna, president of Inkjet Intl., says, "…At first we were concerned that the performance of a regular pressure-sensitive adhesive would not suffice. FLEXcon simply said, 'No problem.' As usual, they had a solution, and if they hadn't, I am sure they would have manufactured one."
SUPPLIER INFO:
FLEXcon Co.—flexcon.com
---
---
Bag is No Turkey
Kenylon Pak & Cook Bags, produced by KNF Flexpak Corp., Tamaqua, PA, are taking Jennie-O oven-ready frozen turkeys from the plant to the store to the oven. The bags roast poultry while reportedly browning the skin, retaining juices, and eliminating cleanup. The turkey cooks evenly, the company adds, and thanks to stick resistance engineered into the bags, can be removed from the bag easily without stripping the skin. The mono-layer film is said to resist breakage and withstand high temperatures to 480° F. Shape fits around turkey "like a glove," and a "browning gap" forms during cooking to provide uniform browning.
---
---
A 'Good Read'
Field Boxmore, a manufacturer of healthcare packaging in Europe and a sub. of Chesapeake Corp., Richmond, VA, received a "Selection Specially du Jury" award at the Pharmapack Exhibition in Paris, France, for a compact-style package developed and produced for GlaxoSmithKline's Panadol brand in the UK. The package opens like a book to reveal a plastic blister pack containing tablets. The package can be opened and closed easily without damaging the blister pack inside and has the durability to be run on high-speed packaging lines. The exterior features lacquer-coated board heat-sealed onto a metallic foil surface, with considerable exterior and interior printing surface for patient information.
---