Published: October 31, 2013
LAKE VILLA, IL | Burnishine Products has announced that its deletion pen for Fuji baked plates has been repackaged to provide both the regular deletion tip and a new fine tip for making minute corrections.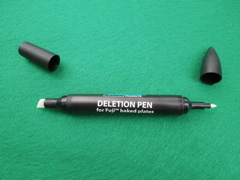 Burnishine president Roger Giza says, "Feedback from users of [our] deletion pen for Fuji baked plates led us to provide an extra fine tip for printers needing precise corrections. The formulation of the pen remains unchanged."
Since 1887 Burnishine has manufactured a broad line of pressroom and related chemical products, including plate chemicals, blanket and roller cleaners, fountain solutions, and a line of related cleaning products. All Burnishine products are manufactured in the US.
This email address is being protected from spambots. You need JavaScript enabled to view it.