Published: October 07, 2013
NUERTINGEN, GERMANY | IST METZ launched the "LED prepared" concept at the recent Labelexpo Europe 2013 in Brussels, Belgium.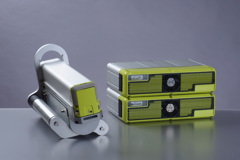 The new development facilitates the subsequent conversion of an up-and-running UV system from the MBS-6 Series to LED UV technology. Company says this will allows users to be in a position to react to future market trends and changeover from the "tried-and-tested" UV technology to LED UV technology as soon as it is economically feasible.
When replacing the technology, the outer housing remains where it is, and the MBS-6 unit is replaced with an LED unit that has been designed as a cassette module. With an output of up to 12 W/cm² in the wavelength range of 385 nm, the LED UV unit is said to reach printing speeds currently seen in narrow web printing.
The cassette is provided by Integration Technology Ltd. (ITL), Upper Heyford, UK, which has been working together in a strategic alliance with IST METZ since 2011.