Published: June 19, 2013
LEOPOLDSHOEHE, GERMANY | eltromat offers the inco_check spectral inline color measurement system for all types of web-fed printing presses. The company reports several installations have been completed successfully in flexo and gravure production with very satisfied customers. Some customers already use the system for the determination of specifications for their color kitchen.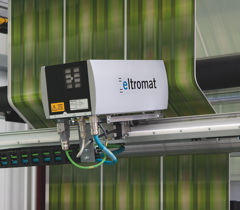 Manufacturer-independent calibration to the used photometer of the customer is said to result in measurements that are recorded in real time that are comparable with any commercially available offline spectral photometer.
Whereas the regular calibration of the sensor of other solutions takes place besides the printing press, company integrated the calibration device directly into the measurement head. Therefore, the regular calibration of inco_check requires no expensive labor or time consuming procedure with press downtime.
Company reports printers get faster and more precise measurements of all color values along the entire print production. Timely corrections of color deviations are possible and waste can be reduced with on-press system. Customers say all measurements can be exported in the universal Color Exchange Format (CxF) and are available for further processes and their optimization.
This email address is being protected from spambots. You need JavaScript enabled to view it.