PFFC brings you exclusive White Papers from our online sponsors.

Visit Kelly on Static from Static control expert Dr. Kelly Robinson, president of Electrostatic Answers; Kelly has 27+ years of experience in problem-solving and consulting.

Visit Tim's Web Lines to handle and wind your paper, film, foil, and similar products. Take advantage of Tim's 25+ years just like over 100 converters have.

Visit Mark's Coating Matters from fluid coating expert Mark D. Miller; Process improvement and project management for precision roll-to-roll coating applications.

Visit Marketing Mojo for dynamic marketing insights from Stephanie Millman that inspire new ideas on how to stay on top of your customer's mind.

Visit Yo's Yarns to share the thoughts, impressions, experiences, and news that impact the converting industry. . . or anything else that happens to be on her mind!

Visit Tom's Poly Ploys, where Tom will be writing on various topics that the typical polymer processor would encounter on the job.
December 13, 2011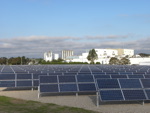 NORTH KINGSTOWN, RI | Toray Plastics (America) has completed the construction of a $2 million, 445-kW) solar photovoltaic (PV) farm on its 70-acre campus in North Kingstown. The new, three-acre solar farm, said to be the largest in the state, consists of 1,650 PV panels and will generate 625 megawatt hours/yr, curbing escalating energy costs and reducing CO2 emissions by 340 tons/yr.
Funding for the solar farm was provided by Toray, grants from the Rhode Island Economic Development Corp.'s Renewable Energy fund, and state and federal grants made possible by the Federal American Recovery and Reinvestment Act of 2009.
At the inauguration ceremony, Rhode Island Governor Lincoln D. Chafee congratulated Toray on its environmental consciousness, its role as a "great corporate citizen," and its commitment to manufacturing in Rhode Island and creating good jobs for state residents.
Rick Schloesser, president and CEO of Toray, told guests the company launched a major sustainability initiative in 2004, enabling it to achieve its goal of producing zero landfill waste, among many other significant benefits.