PFFC brings you exclusive White Papers from our online sponsors.

Visit Kelly on Static from Static control expert Dr. Kelly Robinson, president of Electrostatic Answers; Kelly has 27+ years of experience in problem-solving and consulting.

Visit Tim's Web Lines to handle and wind your paper, film, foil, and similar products. Take advantage of Tim's 25+ years just like over 100 converters have.

Visit Mark's Coating Matters from fluid coating expert Mark D. Miller; Process improvement and project management for precision roll-to-roll coating applications.

Visit Marketing Mojo for dynamic marketing insights from Stephanie Millman that inspire new ideas on how to stay on top of your customer's mind.

Visit Yo's Yarns to share the thoughts, impressions, experiences, and news that impact the converting industry. . . or anything else that happens to be on her mind!

Visit Tom's Poly Ploys, where Tom will be writing on various topics that the typical polymer processor would encounter on the job.
November 26, 2013
ROCHESTER, NH | Dover Flexo Electronics (DFE) announces the release of the new WebHandler4 automatic tension controller. The controller is said to maintain set tension on a web substrate in any zone on a printing press or converting machine to improve converting and printing process consistency.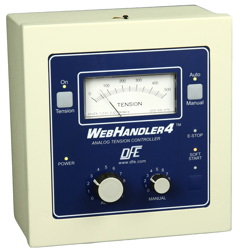 A high-performance, closed-loop analog tension controller, the device is similar in function to company's full-featured SteadyWeb5 digital tension controller but is simpler in style and incorporates a purely analog design.
Explains Glyn Green, DFE's technical support manager, "While some users may view the analog design of devices like the WebHandler4 as an anachronism, there are many tension control users who prefer the simplicity and familiarity of an analog user interface to the more complex graphic user interface of the digital type controllers. We need to serve both desires in the tension control marketplace."
Product offers tension transducer inputs and the SteadyWeb5 standard controller features, Quick-Cal push-button Zero and Calibration for fast setup, and choice of 24 Vdc, 115 Vac, or 230 Vac power inputs.