PFFC brings you exclusive White Papers from our online sponsors.

Visit Kelly on Static from Static control expert Dr. Kelly Robinson, president of Electrostatic Answers; Kelly has 27+ years of experience in problem-solving and consulting.

Visit Tim's Web Lines to handle and wind your paper, film, foil, and similar products. Take advantage of Tim's 25+ years just like over 100 converters have.

Visit Mark's Coating Matters from fluid coating expert Mark D. Miller; Process improvement and project management for precision roll-to-roll coating applications.

Visit Marketing Mojo for dynamic marketing insights from Stephanie Millman that inspire new ideas on how to stay on top of your customer's mind.

Visit Yo's Yarns to share the thoughts, impressions, experiences, and news that impact the converting industry. . . or anything else that happens to be on her mind!

Visit Tom's Poly Ploys, where Tom will be writing on various topics that the typical polymer processor would encounter on the job.
May 20, 2013
MUTTENZ, SWITZERLAND | Clariant reports the introduction of Cartaguard KHI, said to be a high-performance, totally PFOA-free, grease-resistant additive for effective and safer grease-resistant food papers and board.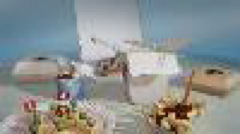 Impregnating agent Cartaguard KHI reportedly is easy to apply and does not affect the printing or adhesive properties of paper
Product is based on C3 technology, company's patented fluorinated chemistry that prevents it from breaking down to form PFOA. It supports the trend toward more eco-friendly solutions for hand-held, ready-to-eat foods such as burgers, pizza, pastries, and confectionary. It is said to make paper grease-resistant without releasing impurities into the packaging. It penetrates into the paper or board and attaches to each fiber to create a protective surface that protects hands and clothing from grease.
Company says Cartaguard KHI is already approved for food contact applications by the German Federal Institute for Risk Evaluation (BfR) and the US FDA, and it meets the stringent requirements for food service packaging.