Published: November 30, 2005, By Edward Boyle, Contributing Editor
Web Exclusive
Bigger is better. At least that's what more and more sheet-fed converters are finding as they try to increase their competitive edge in an even more competitive marketplace.
"There are a lot of 40-inch ultraviolet presses out in the marketplace, and having a larger UV press allows us to do something a little bit different," notes Joe Kulis, chief operating officer of Ed. Garvey & Co., which installed a six-color, 64-in. KBA Rapida 162 sheet-fed press in February 2004.
In July 2005, Trojan Litho installed a large format KBA Rapida 142 56-in. eight-color sheet-fed press with coater and hybrid UV capabilities, as well as the KBA Qualitronic II inline sheet inspection system. President Wayne Millage said he expected the new press not only to expand his company's presence in the box market but also "bring us further efficiencies due to its larger sheet size and its increased automation.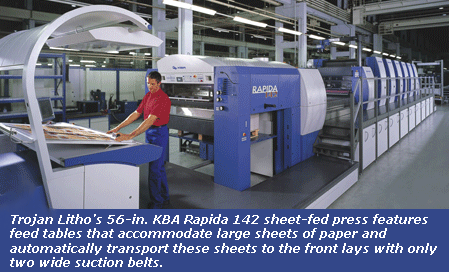 "Instead of running 100,000 sheets for a box design through our 40-inch presses one-up, we're able to put through 50,000 sheets two-up," explains Millage. "It is a press that is equipped with a variety of features that will differentiate us from our competition."
Indeed, as many segments of the economy have become mired in a "tortoise-like expansion" (at least when compared to the "hare-y" days of the late 1990s), many in the printing industry have made substantial investments in new equipment and technologies to expand their potential customer base beyond their traditional markets.
For example, many narrow web converters have found lucrative niches by going, say, from solely converting pressure-sensitive labels to producing small folding cartons and even flexible packaging for such demanding (and potentially more lucrative) markets such as health and beauty and pharmaceuticals. These enterprising converters have been supported by press manufacturers that began offering more versatile equipment with lots of bells and whistles. The same innovation can be seen in the wide web market as well.
Serving an Underserved Market
Garvey & Co.'s Kulis notes his company couldn't even produce UV sheets in-house prior to installing the Rapida 162. As a result, all of the work running through that press, which is predominantly preprinted litho paper or coated board, is new.
"The primary reason for our investment in the large format equipment was the desire to get into a market that appeared to be underserved," says Kulis. "There are lots of 40-inch presses in the Chicago area, but few 64-inch presses. We also feel that the UV and hybrid ink capabilities of the press allow us to help our customers differentiate themselves from their competition by printing eye-catching, dramatic, creative pieces on a variety of substrates, including foils and plastics."
To step up to the 64-in. format, Ed Garvey & Co. completely upgraded its prepress and postpress departments with a new large format platesetter, inkjet proofer, and cutter. To avoid problems with specialty substrates, the company also added air conditioning and humidity controls to the pressroom.
Trojan Litho President Millage explained that after researching a variety of sheet-fed press manufacturers, the company chose the KBA Rapida 142 press because it could produce high quality work for both its packaging and commercial work. Millage says the press will allow Trojan to grow aggressively in both markets since it is able to offer its customers superior options to help them be successful in the ever-competitive marketplace.
"For example," says Millage, "we're now able to produce oversize graphics with UV coatings and varnish and unique graphic effects. We can offer our ad agency clients banners and oversize prints. We also can print on different substrates, such as plastic, on our new Rapida 142."
Growth in UV Coatings
Johnson Printing & Packaging Corp. installed a KBA Rapida 105 41-in., seven-color sheet-fed press with in-line spot UV coating capabilities in September 2004. The company replaced an older five-color sheet-fed press with a coater with the new KBA Rapida 105 seven-color press with in-line spot UV coating.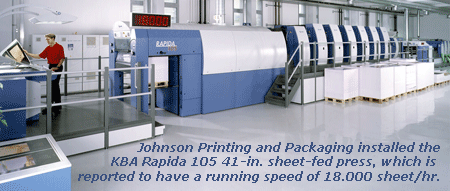 Completely automated, the KBA Rapida 105 is equipped with the Closed Loop Color Management system. Once a press sheet has been approved, that same press sheet is read by a spectrophotometer, which records the varying ink densities across the sheet. Throughout the press run, sheets are scanned by the spectrophotometer and the computer automatically adjusts the press to run to the approved sheet.
"Our niche is to provide high-end value-added jobs to our nationwide customer clientele," says Stuart Weitzman, one of the company's co-owners along with Charles Silverman. "Our new Rapida 105 seven-color press is providing us with more color, higher speeds, better color control, and in-line UV spot coating for the high-end folding cartons, point-of-purchase displays, commercial printing, preloaded inserts, and carded packaging that we produce."
The firm was also tracking a growing development in its market. "We believe that UV coating is a growing market for our company," says Weitzman. "To this end, we wanted a press that provided in-line spot UV coating capabilities to make us more efficient and give us higher speeds and much more throughput than we've ever had before. The new KBA Rapida 105 41-inch press is the solution for us."
---
---
CONVERTER INFO:
Ed. Garvey and Co.
7400 N. Lehigh Ave.
Niles, IL 60714
847/647-1900; edgarvey.com
Trojan Litho
800 SW 27th St.
Renton, WA 98055
425/873-2200; trojanlitho.com
Johnson Printing & Packaging Corp.
40 77th Ave. NE
Minneapolis, MN 55432
763/571-2000; jppcorp.com
SUPPLIER INFO:
KBA North America—kba-usa.com
---