Published: April 03, 2018
BERGISCH GLADBACH, GERMANY. | For the launch of the new web radio "Radio Vino," which is all about wine, on March 22 an extraordinary kick-off event was held at the En Vrac wine bar in Paris – the outer walls were completely covered with Zanders Chromolux Alu 90 gsm for the occasion.
The founder of "Radio Vino," Thierry Poincin, had strived to create an outstanding event in his renowned wine bar En Vrac that was elected as BEST WINE BAR by the magazine Time-out in 2014. Hence, Poincin had asked Zanders to cover the outer walls of the bar with Chromolux label paper. So the guests of the event, among others Zanders' customers from France, were able to gaze at the exceptional decoration with silver glossy Chromolux Alu.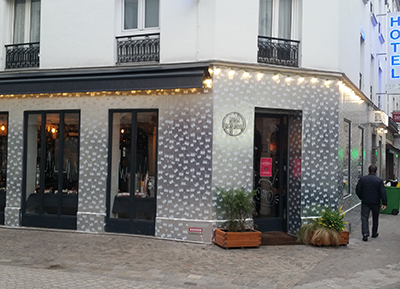 Chromolux premium brand is produced by the German manufacturer of high quality specialty papers and boards, Zanders. Chromolux label papers, like the chosen Chromolux Alu, are primarily used for high-end products such as champagne and spirits. Thus, its application on the walls of the En Vrac embodied a challenge that Zanders accepted. In order to implement this captivating idea into practice, Zanders cooperated with Xeikon who printed the Radio Vino logo on the Chromolux roll. Furthermore, the "artists-ouvriers" of the studio Artelle, Drass and Manue, executed the on-site installation. "It was a challenging task to attach a paper web of 90 gsm on a four meters high wall," explained Drass.
"The result was phenomenal and surpassed our expectations," said Poincin. "And the brilliance of the aluminum reminded of the INOX wine tanks that are located in the restaurant." "We are very pleased that our product is honored like that," said Frédéric Delage, sales manager France at Zanders. "Chromolux perfectly showcased its mechanical strength, its unique surface optics and printing results. This event absolutely contributed to this year's celebration of 60 years of Chromolux."