Published: October 02, 2017
GLEN ARM, MD | SUN Automation Group, a global supplier of for feeding, printing, and converting equipment for corrugated box plants, recently welcomed local, state, and national officials to its Glen Arm campus to mark the purchase of 33 acres of land, which includes the 183,000-sq-ft manufacturing facility. The celebration brought together customers, employee-owners, corrugated industry veterans, and invited guests to recognize SUN and to celebrate US manufacturing in the Baltimore area.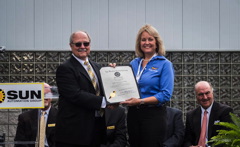 "This new facility not only brings together our 118 US employees under one roof but also allows us to have the space and tools needed to better serve our customers and grow our business," said Ron Diedeman, president of SUN Automation Group. "We also have ample opportunity to grow with the room and plan to build another 120,000 square-foot facility expansion building in the near future."
Secretary Mike Gill of the Maryland Department of Commerce praised the company for its leadership in the community, noting that SUN is a prime example of the growth of business in the state of Maryland. "We just came out with another job report last week, and Maryland put 14,000 new jobs on the board."
In addition, SUN Automation Group was honored with citations or official proclamations that recognized the employee-owned organization. Among those in attendance were the following:
Senator J.B. Jennings, Maryland State Senate
Delegate Kathy Szeliga, Minority Whip, Maryland House of Delegates
Delegate Pat McDonough, Maryland House of Delegates
Representative for Senator Ben Cardin
Reverend Jerome Stephens, Director of Community Outreach
Representative for Senator Chris Van Hollen
Bart Kennedy, Community Liaison
Sara Trenery, Business Development Representative, Baltimore County Department of Economic and Workforce Development
The theme of the day was "Did You Know?" and the conference included several facts about the importance of the corrugated industry for guests who aren't familiar with the $147 billion dollar industry SUN supports.
"Now we have 131 US employees working together to support our customers around the world," said Diedeman. "And we plan on expanding on that, and we plan on growing...and we look forward to offering more employment opportunities for more Marylanders."
This email address is being protected from spambots. You need JavaScript enabled to view it.