Today the handling of converting materials is still faced with many challenges.

The changing marketing landscape presents opportunities to connect with prospects but be aware that few efforts create immediate engagement.

Flexible packaging makes the most of converters' capabilities, from printing, to form/fill/seal pouch production and many aspects that are...
About Converting Solutions
Converting Solutions, A PFFC Brand is a premier business-to-business publication designed specifically to address the information needs of the busy buyer of printing and graphics equipment. It is written for the professionals whose primary objective is to buy or sell equipment, materials and services. Converting Solutions uses print and digital publications to communicate monthly with professionals who are ready to buy products. Innovative product offerings for 2018 include eBlasts, show packages, special sections, website advertising, social media and videos to deliver your promotional message in a manner guaranteed to get the results you are looking for.

Click Here to Download 2018 Print Media Kit (PDF)
Multimedia Solutions
We reach your customers through carefully designed dynamic and innovative media services. For print, Converting Solutions lands on the desk of the busy professional or is received at one of the many industry shows we attend. For digital, our publication is opened and read from computers and phones by your customers who can click through directly to your advertisement. The pages of our website are viewed by thousands of industry professionals monthly which provides a strong audience for advertising on our site. Converting Solutions connects buyers with sellers of products and services making it an indispensable tool for advertisers.
Print Publication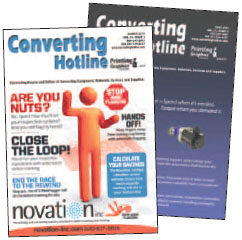 • Mailed monthly nationwide
• Distributed at major trade shows throughout the year
Digital Publication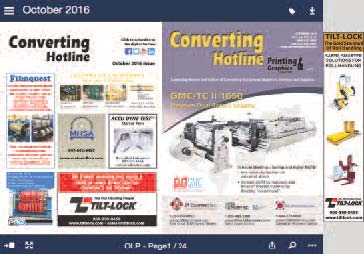 • Duplication of the print issue but with added digital interactivity such as clickable web and email links, & videos
• Deployed via email
• Available in several places on our website
Website Advertising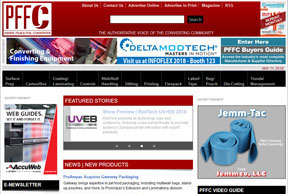 Provides users with content including::
• Expert columnists in the Converting & Printing industries
• Feature Stories
• Products and Industry News
• Video Guide • Buyer's Guide
• White Papers
View Website Media Kit
Our rates and CPM are among the most competitive and the lowest in the industry. Your rate also includes FREE 4/color graphic design assistance if needed. This publication is mailed 12 times/year.
Priority Positions
| Position | 4/Color |
| --- | --- |
| Front Cover | $2,450 |
| Back Cover | $2,175 |
| Inside Front Cover | $2,025 |
| Inside Back Cover | $1,830 |
| Priority Page 3 | $1,960 |
| Center Spread | $3,360 |
4/Color Rates
(per insertion rate)
| Size | 1 Issue | 3 Issues | 6 Issues | 12 Issues |
| --- | --- | --- | --- | --- |
| Full Page | $1,830 | $1,750 | $1,680 | $1,590 |
| 1/2 Page | $1,300 | $1,260 | $1,220 | $1,130 |
| 1/4 Page | $980 | $920 | $870 | $830 |
| 1/8 Page | $680 | $660 | $650 | $610 |
| Business Card | $560 | $550 | $540 | $510 |
Rates are net and non-commissionable
* All Rates Include Print & Digital Editions
Circulation by Type of Industry

Flexible Packaging
Paper, Film, Foil, Plastic, Bags, & Pouches
46%
Paperboard Packaging
Corrugated Converters, Folding Cartons,
Set-up Boxes, Fiber Tubes & Cans
15%
Non-Printed Rolls & Sheets
Film, Foil, Paper, Paperboard, &
Used for further converting
14%
Tapes, Labels & Tags
12%
Other Converting Products
Office Products, Sanitary Products, &
Manufacturers of Converting Machinery
13%
Full Page Ad

Bleed Size
7-7/8" x 11"
Page Trim
7-5/8" x 10-3/4"
Live Matter
7" x 9-13/16"

---

2 Page Spread

Bleed Size
15-3/4" x 11-1/4"
Page Trim
15-1/4" x 10-3/4"
Live Matter
14-10/16" x 9-13/16"

---

Front Cover

Bleed Size
7-7/8" x 11"
Page Trim
7-5/8" x 10-3/4"
Live Matter
7" x 6-13/16"

---

Back Cover

Bleed Size
7-7/8" x 7-7/8"
Page Trim
7-5/8" x 7-3/4"
Live Matter
7" x 7-5/16"

---

Half Page - Horizontal: 7" x 4 13/16"
Half Page - Vertical: 3 3/8" x 9 13/16"
Quarter Page: 3 3/8" x 4 13/16"
1/8 Page: 3 3/8" x 2 13/16"
Business Card: 3 3/8" x 1 13/16"
All above dimensions are width x height.

Camera-ready art specifications
Software
QuarkXpress V10.0, Photoshop V3.0 or higher, Illustrator V5.0 or higher
Supported Formats
PDF, TIFF, EPS and JPG
PDF's: When preparing your PDF, distill the PDF at 240 dpi, embed all fonts
Images
Photos should be processed at a resolution of no less than 240 dpi and at 100% of the printing size.
Recommended Resolutions of Original Scans
Color Images - cmyk: 240-300 dpi
Black & White Line Art: 900 dpi
Grayscale Images: 240 dpi
We Can Not Accept
Corel Draw, Word Perfect, Powerpoint, Excel, Pagemaker, Microsoft Publisher, True Type Fonts, or Window Fonts.
Artwork Submission
Email
Email to This email address is being protected from spambots. You need JavaScript enabled to view it.
FTP
FTP: ftp.es-pub2.com
Username: This email address is being protected from spambots. You need JavaScript enabled to view it.
Password: GoHawks!1
Disk
809 Central Ave, Suite 200
Fort Dodge, IA 50501
When sending us a CD, include a laser or color copy of contents.
All new ad copy is due on or before the due date on our distribution schedule.
Any advertising copy submitted after that time will be placed in the following edition. Cut-off may vary on special show issues, so please consult your marketing consultant for details.
January
Ad Copy Due: 12/14/17
Distribution
• The Packaging Conference
February 5-7 - Orlando, FL
• Converters Expo South
February 6 - Charlotte, NC
• West Pack/Plastec West
February 6-8 - Anaheim, CA
• 2018FLEX
February 12-15 - Monterey, CA
• Graphics of the Americas
February 22-24 - Ft. Lauderdale, FL
February
Ad Copy Due: 1/25/18
Distribution
• TLMI Converter Meeting
March 11-14 - San Diego, CA
• FPA Annual Meeting
March 13-15 - Naples, FL
• Gasketing/Converters Expo
March 19-21 - Orlando, FL
Pre-Show
• Pack Expo East
March
Ad Copy Due: 2/22/18
Distribution
• PapercCon 2018
April 15-18 - Charlotte, NC
• Pack Expo East
April 16-18 - Philadelphia, PA
• Converters Expo
April 17-18 - Green Bay, WI
• Plastec New England
Apr 18-19 - Boston, MA
Pre-Show
• NPE 2018
Post-Show
• West Pack / Plastec West
April
Ad Copy Due: 3/22/18
Distribution
• Label Summit Latin America
April 24-25 - Guadalajara, Mexico
• INFOFLEX 2018
May 6-9 - Indianapolis, IN
• NPE 2018
May 7-11 - Orlando, FL
Post-Show
• Graphics of the Americas
May
Ad Copy Due: 4/19/18
• Top 100 Flexible Packagers
• Top 100 Paperboard
Manufacturers
• Top 100 Tag & Label Companies
June
Ad Copy Due: 5/17/18
Distribution
• Global Pouch Forum
June 13-15 - Miami, FL
Post-Show
• Pack Expo East
• NPE 2018
July
Ad Copy Due: 6/21/18
Pre-Show
• Labelexpo Americas
Post-Show
• Super Post-Show Distribution
August
Ad Copy Due: 7/26/18
Distribution
• Labelexpo Americas
September 25-27 - Rosemont, IL
Pre-Show
• Graph Expo
• Pre-Show Pack Expo International
September
Ad Copy Due: 8/23/18
Distribution
• Graph Expo
September 30 - October 3 -
Chicago, IL
• Pack Expo International
October 14-17 - Chicago, IL
• TLMI Annual Meeting
October 14-17 - Amelia Island, FL
October
Ad Copy Due: 9/20/18
Distribution
• SGIA 2018
October 18-20 - Las Vegas, NV
• Print World 2018
November 17-19 - Toronto, ON
November
Ad Copy Due: 10/18/18
Post-Show
• Labelexpo Americas
• Graph Expo
• Pack Expo
December
Ad Copy Due: 11/15/18
Distribution
• Super Association Distribution
January
Ad Copy Due: 12/13/18
Q&A Forum Topics
(For Companies Running ½ Page or Larger in Issue):
February – Bags & Pouch making
March – Coating & Laminating
April – Extrusion
May – Flexo Printing
June – Bags & Pouches
July – Film Extruders
August – Web Guiding & Tension Control
September – Labels & Labeling
October – Rolls & Roll Handling
November – Printing
December – Trends for 2019 to Watch
Feature Story Editorial Topics By Month
February – Slitting & Rewinding
March – Inks, Coatings
April – Labels & Labeling
May – Digital Printing
June – Flexo Printing
July – Web Guiding & Tension Control
August – Extrusion
September – Coating & Laminating
October – Winding/Unwinding
November – Rolls & Roll Handling
December – Flexible Packaging
Get a Product in Print and eBlasted out - LEAD GENERATOR!
Each month we will offer a dedicated product category COMBO of a Product in Print and eBlasted out for anyone who runs a 1/2 page or larger in that issue. We will also send back the contact info from the readers who click-through.
You will receive the following as part of this NEW COMBO:
• Product in Print: 4-color image, 50 word description, phone, URL
• eBlasted: 4-color image hyperlinked, 50 word description, phone, URL that is hyperlinked
Monthly Topics:
January - Laminating & Coating
February - Flexible Packaging
March - Slitting/Rewinding
April - Pack Expo East
May - NPE
June -Flexible Packaging
July - Extrusion
August - Web/Roll Handling
September - Label Expo & Pack Expo
October - Pack Expo
November - Labels & Tape
December - Slitting/Rewinding
How It Works eBlast
Showcase up to four pieces of equipment or machinery in our "How It Works" eblast!
With "How it Works" you promote your new equipment or machinery in a dedicated eBlast with up to 4 products that will be blasted out.
You send us the following:
• Up to 4 product image
• Headline for each
• Up to a 75 word description for each
• Up to 4 links for each product
Make Use of Your VIDEOS!
Showcase up to four videos showing your equipment or machinery in action!
Sponsor "Lights, Camera, ACTION!" to promote your videos showing your machinery or equipment. These videos help educate your target market and demonstrates your leadership in providing solutions. This eBlast is sent to all subscribers featuring up to 4 supplied videos.
You just send us the following:
• Up to 4 video images
• Headline for each
• Up to a 75 word description for each
• Up to 4 links for video (including one for where it lives on your site)
Support Your Trade Shows!
Sponsor our On the Floor eNewsletter eBlast
Dominate any day(s) exclusively of a trade show with our On The Floor eNewsletter. We will write content on the trends, must-sees and seminars. You would own all of the ad units in each day(s) newsletter that will get deployed to our emails early in the morning.
• 728 x 90 ad with a link
• Up to (3) product images, 50 word description for each and link for each
Show Packages
Package includes:
• Run a print ad the month before and the month of the show
• Be part of a product eblast the week before the show (image, product name, 50 words, link)
• Have an ad on our website for any 90 day period from 60 days prior to the show till 60 days after the show ends
• Be part of our Geo-Fencing at the show
Note: All of the digital eBlasts on this page comes with your metrics on the number of emails sent out, number opened, clicks and we will set up a landing page for readers to request more information from you on any of these solutions.
Buyers Guide
Convert leads to sales from visitors in search of suppliers by product categories, and increase your results of being found and contacted. Our buyers guide listings are set up on a tiered system. Visit our website or contact us to learn what each tier includes. All listings include a direct link to your website.
Contact Us
Converting Solutions
P.O. Box 893
809 Central Avenue, Suite 200
Fort Dodge, Iowa 50501
This email address is being protected from spambots. You need JavaScript enabled to view it.
888-247-2007
Local: 515-574-2248
Fax: 515-574-2237
Email Marketing
Custom Email Blasts - We will email out your sales message to our quality email list. Your blast can include links to your website and email. We can design your blast if needed. Cost is only $250 per thousand with a 2,000 name minimum. Email List Opportunities exist in the following areas: Metal Working, Printing & Graphics, Construction, Electrical Contractors, Converting, Packaging, Plastics, Material Handling, Heating, Plumbing, Air Conditioning, Refrigeration, Woodworking, Trucking, Farming, and Auto Restoration.
Group Email Blast - Reach thousands of buyers at once and get a faster response then you would through most other marketing campaigns. Includes a brief description of your company, your phone number and links to your email and website. Only $500.
Digital Email Blast - An e-mail that notifies subscribers of the latest digital edition. It offers the following options:
Banner - 4 available per issue. Cost: $750 per issue.
Video - 2 spots available. Only $1000 each.
Product Spotlight - 4 spots available. List your company/product information, your company logo OR product image, as well as a link directly to your website. Only $750 per month.
Digital Issue Add-Ons
Skyscraper Banner - The skyscraper is another prevalent form of Web advertising. Skyscraper ads, which are tall and narrow, get their name from the tall buildings you often see in big cities. They are placed to the right of the main content on the page.
They can contain text advertisement and images. When users click on a skyscraper ad, they are redirected to the advertiser's website. Cost: $1500 per issue
Video over Ad - Turn your ad in our digital edition into a live interactive experience by placing your video over your ad. When users flip the page the video will start to play automatically. Cost: $1000 per issue