PFFC brings you exclusive White Papers from our online sponsors.

Visit Kelly on Static from Static control expert Dr. Kelly Robinson, president of Electrostatic Answers; Kelly has 27+ years of experience in problem-solving and consulting.

Visit Tim's Web Lines to handle and wind your paper, film, foil, and similar products. Take advantage of Tim's 25+ years just like over 100 converters have.

Visit Mark's Coating Matters from fluid coating expert Mark D. Miller; Process improvement and project management for precision roll-to-roll coating applications.

Visit Marketing Mojo for dynamic marketing insights from Stephanie Millman that inspire new ideas on how to stay on top of your customer's mind.

Visit Yo's Yarns to share the thoughts, impressions, experiences, and news that impact the converting industry. . . or anything else that happens to be on her mind!

Visit Tom's Poly Ploys, where Tom will be writing on various topics that the typical polymer processor would encounter on the job.
October 14, 2009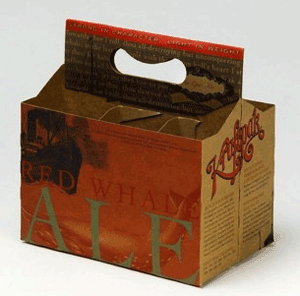 CHARLESTON, SC | KapStone Charleston Kraft promotes a strong environmental image in the retail aisle for its Kraftpak uncoated carton board with a promotional packet hypothetically branded "Red Whale Ale." Made from ultra-lightweight .020/58# Kraftpak, the six-pack promotional carrier that targets niche and premium beverage producers is an unbleached, high performance natural kraft paperboard available in ten standard caliper grades, ranging from .013 in. to .030 in. The carrier's strong fiber composition and ultra low-density design are said to deliver outstanding performance with very low package weight, while its uniform brown surface provides a clean, organic look with excellent printability. The Red Whale Ale promotional carrier features detailed lithographic text and graphics printed on all sides, verbally and visually conveying Kraftpak's ability to reproduce strong, bold color and clear definition. Reportedly suitable for mass market and micro bottlers to distinguish their brands.