PFFC brings you exclusive White Papers from our online sponsors.

Visit Kelly on Static from Static control expert Dr. Kelly Robinson, president of Electrostatic Answers; Kelly has 27+ years of experience in problem-solving and consulting.

Visit Tim's Web Lines to handle and wind your paper, film, foil, and similar products. Take advantage of Tim's 25+ years just like over 100 converters have.

Visit Mark's Coating Matters from fluid coating expert Mark D. Miller; Process improvement and project management for precision roll-to-roll coating applications.

Visit Marketing Mojo for dynamic marketing insights from Stephanie Millman that inspire new ideas on how to stay on top of your customer's mind.

Visit Yo's Yarns to share the thoughts, impressions, experiences, and news that impact the converting industry. . . or anything else that happens to be on her mind!

Visit Tom's Poly Ploys, where Tom will be writing on various topics that the typical polymer processor would encounter on the job.
August 29, 2013
GORHAM, ME | The Montalvo Corp., international specialists in industrial web control systems, announces the XR, a new ribbon-width cantilever load cell designed to provide accurate and repeatable tension for very narrow webs.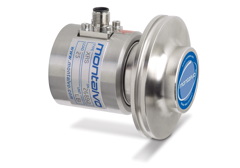 President Ed Montalvo says, "This new X-series is designed for a customized fit into very narrow web, ribbon, wire, or single-strand applications to measure tension on the narrowest of materials."
Features include:
• Multiple load ratings
• Two mounting styles—through-frame single bolt or flange mount
• Customer-specified roller or pulley—diameter, profile, material, and finish
• Body only option—to fit customer-supplied rollers and pulleys.
On company website customers are able to specify a custom roller, pulley, or adapter and then submit the form for a quote or application analysis.