PFFC brings you exclusive White Papers from our online sponsors.

Visit Kelly on Static from Static control expert Dr. Kelly Robinson, president of Electrostatic Answers; Kelly has 27+ years of experience in problem-solving and consulting.

Visit Tim's Web Lines to handle and wind your paper, film, foil, and similar products. Take advantage of Tim's 25+ years just like over 100 converters have.

Visit Mark's Coating Matters from fluid coating expert Mark D. Miller; Process improvement and project management for precision roll-to-roll coating applications.

Visit Marketing Mojo for dynamic marketing insights from Stephanie Millman that inspire new ideas on how to stay on top of your customer's mind.

Visit Yo's Yarns to share the thoughts, impressions, experiences, and news that impact the converting industry. . . or anything else that happens to be on her mind!

Visit Tom's Poly Ploys, where Tom will be writing on various topics that the typical polymer processor would encounter on the job.
August 21, 2013
GREENVILLE, WI | Badger Plug offers a large variety of double plugs used to unitize and protect vertical stacks of slit rolls during shipment. Double plugs interlock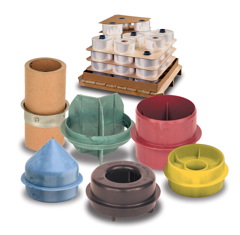 stacked rolls, while divider sheets with preconfigured holes interlock multiple stacks and provide a protective layer between rolls. Company says unitized rolls require less packaging material and result in lower shipping costs.
Double plugs are available in a variety of high-impact thermoplastic designs as well as fiber/metal combinations to fit cores sizes from 2 3/4 to 8 in. Reportedly, patented cone-tipped plugs and models with rounded edges help center larger, more cumbersome rolls onto awaiting plugs, and some plug models are also ideal for robotic applications.