PFFC brings you exclusive White Papers from our online sponsors.

Visit Kelly on Static from Static control expert Dr. Kelly Robinson, president of Electrostatic Answers; Kelly has 27+ years of experience in problem-solving and consulting.

Visit Tim's Web Lines to handle and wind your paper, film, foil, and similar products. Take advantage of Tim's 25+ years just like over 100 converters have.

Visit Mark's Coating Matters from fluid coating expert Mark D. Miller; Process improvement and project management for precision roll-to-roll coating applications.

Visit Marketing Mojo for dynamic marketing insights from Stephanie Millman that inspire new ideas on how to stay on top of your customer's mind.

Visit Yo's Yarns to share the thoughts, impressions, experiences, and news that impact the converting industry. . . or anything else that happens to be on her mind!

Visit Tom's Poly Ploys, where Tom will be writing on various topics that the typical polymer processor would encounter on the job.
August 30, 2013
MISSISSAUGA, ON, | CANADA | Future Design, a Gloucester Engineering company, announces the Saturn Echo 20.20 bubble width control.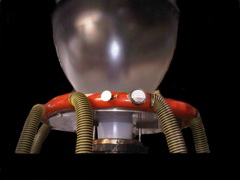 Said to improve film quality, reduce scrap, and improve yield, the unit maintains the film (tubing) diameter to ensure the layflat width is as close to the specified parameters as possible. By running tighter layflat tolerances, customers can reduce their trim and scrap, company says. In addition, the bubble width control assists in the recovery of bubble breaks.
Offered as a retrofit for nearly any make or model of non-IBC (internal bubble cooled) blown film system, the control will not only reduce costs, company says, but also will pay for itself in many ways including reducing the number of customer returns. Other benefits reportedly include extrusion rate and operator reaction time.