PFFC brings you exclusive White Papers from our online sponsors.

Visit Kelly on Static from Static control expert Dr. Kelly Robinson, president of Electrostatic Answers; Kelly has 27+ years of experience in problem-solving and consulting.

Visit Tim's Web Lines to handle and wind your paper, film, foil, and similar products. Take advantage of Tim's 25+ years just like over 100 converters have.

Visit Mark's Coating Matters from fluid coating expert Mark D. Miller; Process improvement and project management for precision roll-to-roll coating applications.

Visit Marketing Mojo for dynamic marketing insights from Stephanie Millman that inspire new ideas on how to stay on top of your customer's mind.

Visit Yo's Yarns to share the thoughts, impressions, experiences, and news that impact the converting industry. . . or anything else that happens to be on her mind!

Visit Tom's Poly Ploys, where Tom will be writing on various topics that the typical polymer processor would encounter on the job.
August 22, 2013
NORTH KINGSTON, RI | Toray Plastics (America), manufacturer of precision-performance polyester, polypropylene, metallized, and bio-based films, has started construction on a second cogeneration system at its 70-acre North Kingstown campus.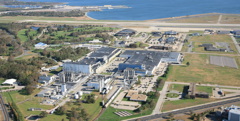 Toray Plastics (America) is building a second cogeneration facility on its 70-acre Rhode Island campus
Cogeneration power systems allow users to operate "off the grid" and prevent the kind of electrical power outages that can occur with conventional power plants. Toray already operates a cogeneration system that supplies continuous power to its Lumirror polyester film division, which sustains manufacturing production even during severe weather events, such as Hurricane Sandy, and enables the company to provide uninterrupted customer service.
The new system, which is expected to be operational by March 2014, will be dedicated to powering production for the Torayfan polypropylene film division and other sites around the property. It is expected to reduce dramatically the company's demand on the supply of electricity to nearby Rhode Island communities, particularly during peak periods in the summer months.
In addition, the company estimates that the new system, like the current unit, will eliminate approximately 12,500 tons of CO2 per year, for a total reduction of 25,000 tons. Toray's sustainability initiative, begun in 2004, includes the use of solar power, zero landfill, and extensive recycling, among other features.