PFFC brings you exclusive White Papers from our online sponsors.

Visit Kelly on Static from Static control expert Dr. Kelly Robinson, president of Electrostatic Answers; Kelly has 27+ years of experience in problem-solving and consulting.

Visit Tim's Web Lines to handle and wind your paper, film, foil, and similar products. Take advantage of Tim's 25+ years just like over 100 converters have.

Visit Mark's Coating Matters from fluid coating expert Mark D. Miller; Process improvement and project management for precision roll-to-roll coating applications.

Visit Marketing Mojo for dynamic marketing insights from Stephanie Millman that inspire new ideas on how to stay on top of your customer's mind.

Visit Yo's Yarns to share the thoughts, impressions, experiences, and news that impact the converting industry. . . or anything else that happens to be on her mind!

Visit Tom's Poly Ploys, where Tom will be writing on various topics that the typical polymer processor would encounter on the job.
July 19, 2013
FAIRFIELD, NJ | AZCO Corp. has designed a rotary crush cutter said to be capable of hundreds of cuts per minute. This modular unit can be incorporated into a new machine or replace existing units, and assemblies can be customized to meet specific requirements.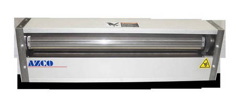 A crush cut is achieved by the blade in the top cylinder cutting against a hardened anvil roll. These units have blade spacing from 50 mm/2 in. and up and are good for many types of flexible materials. They are also ideal for perforated cuts; perforating blades are available with different patterns. Company says benefits include disposable steel rule die blades, precision bearings designed to take high load forces, and a reliable cutting blade assembly designed for quick and easy removal.
The unit has an extended shaft on the cutting cylinder where a timing pulley or gear can be attached. The rotary cutter should always run slightly faster than the web to ensure good cut quality without disturbing the web. Cut length is determined by the relationship of web speed to cutting speed.