PFFC brings you exclusive White Papers from our online sponsors.

Visit Kelly on Static from Static control expert Dr. Kelly Robinson, president of Electrostatic Answers; Kelly has 27+ years of experience in problem-solving and consulting.

Visit Tim's Web Lines to handle and wind your paper, film, foil, and similar products. Take advantage of Tim's 25+ years just like over 100 converters have.

Visit Mark's Coating Matters from fluid coating expert Mark D. Miller; Process improvement and project management for precision roll-to-roll coating applications.

Visit Marketing Mojo for dynamic marketing insights from Stephanie Millman that inspire new ideas on how to stay on top of your customer's mind.

Visit Yo's Yarns to share the thoughts, impressions, experiences, and news that impact the converting industry. . . or anything else that happens to be on her mind!

Visit Tom's Poly Ploys, where Tom will be writing on various topics that the typical polymer processor would encounter on the job.
July 11, 2013
DULUTH, GA | Nordson Corp. offers TruFlow meters that enable monitoring and control of material flow during all phases and line speeds of production for nonwovens, packaging applications, and more.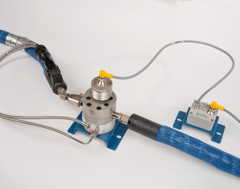 This variation management capability allows manufacturers to measure, understand, and improve material delivery and dispensing, reportedly enabling manufacturers to reduce waste, improve product quality, and enhance production efficiency. Variation management is said to be especially valuable in nonwoven disposable hygiene product manufacturing with demanding, rapidly changing flow requirements during ramp-up and ramp down-phases.
The TruFlow meter is a simple, positive-displacement meter said to measure actual material flow rates accurately and consistently. The meter operates across a broad flow range, 10–500 ccs/min, as well as a wide spectrum of material viscosities and temperatures.
Company says meters have a durable design and construction, making them easy to install and minimizing maintenance. Simple connections and compact size mean TruFlow meters are adaptable to most production environments.
TruFlow meters join the family of TruFlow applicators and dividers to round out company's OptiBond solutions for variation management. The OptiBond portfolio accommodates both retrofit and new installations for everything from simple flow monitoring to point-of-application, closed-loop control.