PFFC brings you exclusive White Papers from our online sponsors.

Visit Kelly on Static from Static control expert Dr. Kelly Robinson, president of Electrostatic Answers; Kelly has 27+ years of experience in problem-solving and consulting.

Visit Tim's Web Lines to handle and wind your paper, film, foil, and similar products. Take advantage of Tim's 25+ years just like over 100 converters have.

Visit Mark's Coating Matters from fluid coating expert Mark D. Miller; Process improvement and project management for precision roll-to-roll coating applications.

Visit Marketing Mojo for dynamic marketing insights from Stephanie Millman that inspire new ideas on how to stay on top of your customer's mind.

Visit Yo's Yarns to share the thoughts, impressions, experiences, and news that impact the converting industry. . . or anything else that happens to be on her mind!

Visit Tom's Poly Ploys, where Tom will be writing on various topics that the typical polymer processor would encounter on the job.
October 02, 2012
PAWCATUCK, CT | Davis-Standard reports its new manufacturing facility in Suzhou, China, is officially open for business. Said to represent the company's commitment to fully support customers throughout the Asia-Pacific region, the facility's management team and plant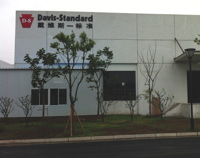 operators are in place with construction inside the building nearing completion. According to Davis-Standard's CEO Bob Preston, the project was executed flawlessly and in record time.
"I've worked in China for 12 years, so I can confidently say this was a benchmark project," says Preston. "…The outstanding coordination between our Asia-Pacific and US teams as well as the Chinese government made this possible."
Davis-Standard, supplier of converting and extrusion systems, says the new facility will support sales, technical support, equipment production, aftermarket and service programs, and start-up operations. It will also feature research and development equipment for customer trials.
"Fred Pereira, our president of Asia-Pacific, is doing an excellent job of aggressively expanding our regional…capabilities focused on customer care," adds Preston. "…We have the utmost confidence in Fred and his staff as they establish this location and spearhead our growth in the region."