PFFC brings you exclusive White Papers from our online sponsors.

Visit Kelly on Static from Static control expert Dr. Kelly Robinson, president of Electrostatic Answers; Kelly has 27+ years of experience in problem-solving and consulting.

Visit Tim's Web Lines to handle and wind your paper, film, foil, and similar products. Take advantage of Tim's 25+ years just like over 100 converters have.

Visit Mark's Coating Matters from fluid coating expert Mark D. Miller; Process improvement and project management for precision roll-to-roll coating applications.

Visit Marketing Mojo for dynamic marketing insights from Stephanie Millman that inspire new ideas on how to stay on top of your customer's mind.

Visit Yo's Yarns to share the thoughts, impressions, experiences, and news that impact the converting industry. . . or anything else that happens to be on her mind!

Visit Tom's Poly Ploys, where Tom will be writing on various topics that the typical polymer processor would encounter on the job.
December 02, 2013
GLOSSOP, DERBYSHIRE, UK | Glossop Cartons' recent high profile investment in the innovative Highcon Euclid digital cutting and creasing machine was formally celebrated in October when the UK's leading manufacturer of carton board packaging products held an exclusive open event for its customers to come and meet the Euclid.
The event, which was held at the company's manufacturing facility in Glossop, was attended by the CEO of Highcon Aviv Ratzman, who officially opened the digital studio where the machine is housed. Commenting at the event, Aviv said, "Glossop Cartons has long held a reputation for innovation and quality, and we're delighted that it has chosen the Highcon Euclid to help further transform its packaging operation.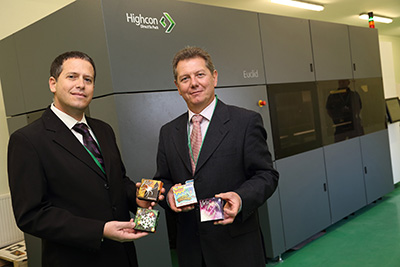 Aviv Ratzman, CEO of Highcon, and Brian Sidebottom, managing director of Glossop Cartons showcase the capabilities of the Highcon Euclid.
"The company has always invested in systems and processes that benefit its customer needs, and the addition of the Highcon Euclid will continue this trend in areas such as lead time and the ability for packaging to really stand out from the crowd."
Glossop Cartons was the first company in the world to commission the machine and the first in the UK to install it. The installation of the Highcon Euclid now enables Glossop Cartons to offer its customers faster speeds to market, greater flexibility and cost savings on shorter runs.
Customers were treated to an exclusive first-look at the machine in operation, as Glossop Cartons produced a one-off Packaging Superheroes themed carton to showcase the Euclid's capabilities and to serve as a thank you for attending the day.
Jacky Sidebottom, director at Glossop Cartons said, "Our customers have played a pivotal role in the success of Glossop Cartons over the years, and we thought this event was the ideal way to say thank you for choosing to work with us, as well as allowing them an intimate first-look at the Highcon Euclid in action. "We are thrilled that Aviv Ratzman has flown in to join us to mark this special occasion and we look forward continuing our partnership with Highcon over the coming years."