PFFC brings you exclusive White Papers from our online sponsors.

Visit Kelly on Static from Static control expert Dr. Kelly Robinson, president of Electrostatic Answers; Kelly has 27+ years of experience in problem-solving and consulting.

Visit Tim's Web Lines to handle and wind your paper, film, foil, and similar products. Take advantage of Tim's 25+ years just like over 100 converters have.

Visit Mark's Coating Matters from fluid coating expert Mark D. Miller; Process improvement and project management for precision roll-to-roll coating applications.

Visit Marketing Mojo for dynamic marketing insights from Stephanie Millman that inspire new ideas on how to stay on top of your customer's mind.

Visit Yo's Yarns to share the thoughts, impressions, experiences, and news that impact the converting industry. . . or anything else that happens to be on her mind!

Visit Tom's Poly Ploys, where Tom will be writing on various topics that the typical polymer processor would encounter on the job.
August 23, 2013
BRATTLEBORO, VT | FiberMark, a global manufacturer of fiber-based covering materials for top brands, announces an innovative new portfolio of folding carton products reportedly engineered to meet the rigorous design demands of the upscale spirits packaging market.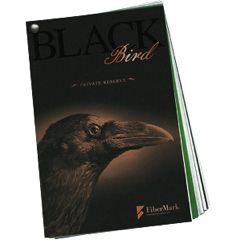 FiberMark's premium spirits folding carton packaging materials are showcased in this
The Premium Board Portfolio Includes:
• Grafton – premium board with an uncoated vellum finish
• Dorset – premium board with a matte pigment-coated finish
• Metal-X and Shimmer (K-Series) – luxury board products with distinctive, decorative coatings.
These new packaging boards are available in a wide variety of custom colors, including custom color duplex solutions, and a wide variety of embossed patterns. All are FSC certified (FSC-C020981), made in the US, and include recycled content. Available in three calipers (12, 18, and 26 pt), boards are said to be strong and durable while providing a stylish, refined alternative to white SBS.
Company says boards offer superior scoring, folding, and gluing properties and excellent resistance to cracking and scuffing, also saying they are not only well suited for folding carton applications but also for complementary branding projects such as hang tags, special event invitations, and other corporate collateral materials.