PFFC brings you exclusive White Papers from our online sponsors.

Visit Kelly on Static from Static control expert Dr. Kelly Robinson, president of Electrostatic Answers; Kelly has 27+ years of experience in problem-solving and consulting.

Visit Tim's Web Lines to handle and wind your paper, film, foil, and similar products. Take advantage of Tim's 25+ years just like over 100 converters have.

Visit Mark's Coating Matters from fluid coating expert Mark D. Miller; Process improvement and project management for precision roll-to-roll coating applications.

Visit Marketing Mojo for dynamic marketing insights from Stephanie Millman that inspire new ideas on how to stay on top of your customer's mind.

Visit Yo's Yarns to share the thoughts, impressions, experiences, and news that impact the converting industry. . . or anything else that happens to be on her mind!

Visit Tom's Poly Ploys, where Tom will be writing on various topics that the typical polymer processor would encounter on the job.
October 08, 2013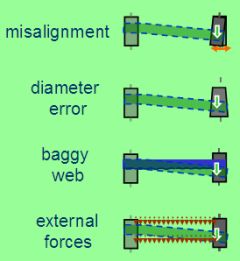 A simple question with a not so simple answer. Let's start by narrowing down the culprits.
If the web moves off centerline, there are a limited number of reasons this happens.
1. Roller misalignment
2. Roller diameter variations
3. Web bagginess
4. Nip pressure variations
5. External forces
Mechanism #1, roller misalignment and the parallel entry rule (see in my next blog!) are extremely important concepts to understanding webs and web handling. The parallel entry rule describes what the ideal web will do between misaligned roller if there is sufficient traction to bend the web. Without sufficient traction, the web behavior on misaligned roller is less predictable.
Mechanisms #2 through #4 are all dependent on the parallel entry rule. Therefore, which way a diameter variation, baggy web, and uneven nip will shift a web is also a function of traction.
Mechanism #5 (or external forces) includes the sundry possible interactions of the web to elements of the outside world, whether solid, liquid, or gas, including interaction with people, equipment, attached parts, air flow, or coatings.
But what's this Parallel Entry Rule? Nothing but the most important rule in web handling, that's all! Tune in for more with my next blog post.