PFFC brings you exclusive White Papers from our online sponsors.

Visit Kelly on Static from Static control expert Dr. Kelly Robinson, president of Electrostatic Answers; Kelly has 27+ years of experience in problem-solving and consulting.

Visit Tim's Web Lines to handle and wind your paper, film, foil, and similar products. Take advantage of Tim's 25+ years just like over 100 converters have.

Visit Mark's Coating Matters from fluid coating expert Mark D. Miller; Process improvement and project management for precision roll-to-roll coating applications.

Visit Marketing Mojo for dynamic marketing insights from Stephanie Millman that inspire new ideas on how to stay on top of your customer's mind.

Visit Yo's Yarns to share the thoughts, impressions, experiences, and news that impact the converting industry. . . or anything else that happens to be on her mind!

Visit Tom's Poly Ploys, where Tom will be writing on various topics that the typical polymer processor would encounter on the job.
July 29, 2013
Now that customers have become much more savvy at gathering information about your products and services, a traditional sales approach has become archaic. What can you do to map your organization's approach to have effective interactions with your customer that continue to grow revenue and market share?

An obvious start would be to implement an integrated Contact Relationship Management (CRM) system and open communication between departments. To keep tossing out leads and expecting the sales people to pull in more and more sales without providing them an army of helpers throughout the sales cycle will lead to serious dysfunction. Even without a CRM or way to immediately share contact and sales information between departments, you need to establish your sales approach to engage more contributors to the sales process. Consider your 'sales team' to be much more expansive than the people that have "sales" or "business development" in their title. Contributors include management, marketing, customer service, field service/maintenance, and even accounting.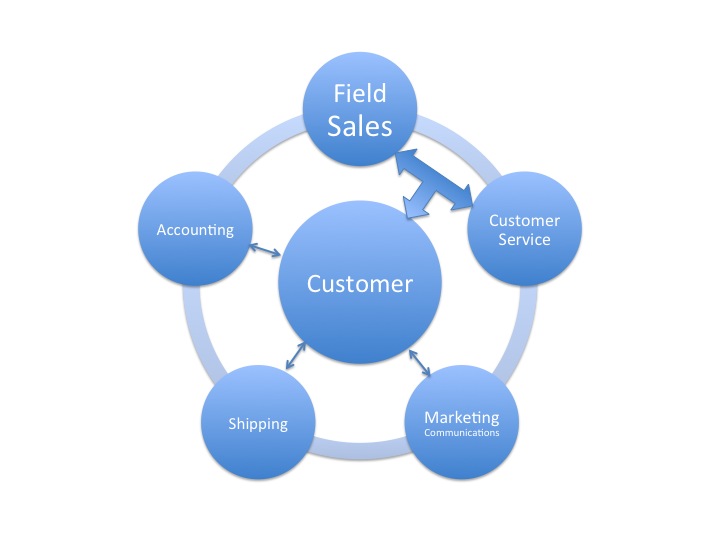 When everyone has access to information on the customer's sales/order process, then each person who interacts with the customer has the potential to move sales along as well as introduce new opportunities to buy. Use technology to your advantage. It keeps everyone connected almost immediately with text messages, email, online chat, and keyword opt-in services to pull data and alerts when and you want them.
When you map your organization to support a new collaborative sales approach, then everyone who can connect with your customers is considered (and provided incentive to be) a contributor to the sales cycle. Ultimately, your customers will become more attached to your organization, and your sales revenue will grow.