PFFC brings you exclusive White Papers from our online sponsors.

Visit Kelly on Static from Static control expert Dr. Kelly Robinson, president of Electrostatic Answers; Kelly has 27+ years of experience in problem-solving and consulting.

Visit Tim's Web Lines to handle and wind your paper, film, foil, and similar products. Take advantage of Tim's 25+ years just like over 100 converters have.

Visit Mark's Coating Matters from fluid coating expert Mark D. Miller; Process improvement and project management for precision roll-to-roll coating applications.

Visit Marketing Mojo for dynamic marketing insights from Stephanie Millman that inspire new ideas on how to stay on top of your customer's mind.

Visit Yo's Yarns to share the thoughts, impressions, experiences, and news that impact the converting industry. . . or anything else that happens to be on her mind!

Visit Tom's Poly Ploys, where Tom will be writing on various topics that the typical polymer processor would encounter on the job.
November 30, 2011
MANTENO, IL | Zip-Pak reports the new Slider Select is its smallest and lightest slider option, offering cost savings by reducing the mass of the system. Enhancing consumer usability through ergonomic design, slider features speeds of more than 150 closures/min and reportedly provides advanced leak resistance to help keep food products fresh.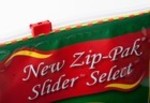 Launched at Pack Expo 2011, the slider is said to offer high manufacturing performance, and it does not require a small opening or a protruding finger for the clip to work properly.