PFFC brings you exclusive White Papers from our online sponsors.

Visit Kelly on Static from Static control expert Dr. Kelly Robinson, president of Electrostatic Answers; Kelly has 27+ years of experience in problem-solving and consulting.

Visit Tim's Web Lines to handle and wind your paper, film, foil, and similar products. Take advantage of Tim's 25+ years just like over 100 converters have.

Visit Mark's Coating Matters from fluid coating expert Mark D. Miller; Process improvement and project management for precision roll-to-roll coating applications.

Visit Marketing Mojo for dynamic marketing insights from Stephanie Millman that inspire new ideas on how to stay on top of your customer's mind.

Visit Yo's Yarns to share the thoughts, impressions, experiences, and news that impact the converting industry. . . or anything else that happens to be on her mind!

Visit Tom's Poly Ploys, where Tom will be writing on various topics that the typical polymer processor would encounter on the job.
March 02, 2005
PRESS RELEASE
SOLEC, POLAND—Mondi Packaging Solec (formerly Frantschach Flexible Packaging Poland) added a new flexible packaging line at its Solec facilities. The €4.5m investment project includes a new Rotomec RS 4004 rotogravure printing press and a Titan SR7 slitter rewinder from Bobst Group as well as a substantial post-burner system for solvent waste.
"The new Rotomec RS 4004 press was chosen in preference to all other equipment currently available in gravure printing, as the perfect solution to meet Mondi Packaging's specific requirements in short run and high quality gravure printing for flexible packaging substrates", explained Mondi's managing director Tomasz Krogulski. "This is our first investment in Rotomec gravure printing technology and it followed a successful demonstration of the press last year in the Technology Center at Rotomec's facilities in Italy."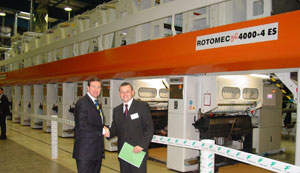 The Rotomec RS 4004 press reportedly solves the problem of trolley make-ready time with automatic changeover activated simultaneously on all units completed in two minutes. Washing of the printing cylinders and cartridges is performed off-line, close to the press and is much simplified by the fact that the stainless steel trolleys can be completely enclosed inside the washing machine for cleaning. The washing machine is specifically designed for the simultaneous washing of inking parts and the printing cylinder: no parts have to be removed from the trolley. Press design reportedly also allows complete job changeover in less than 20 minutes (excluding colour matching).
For more information, see bobstgroup.com.
---