Published: February 28, 2006, By Nsenga Byrd Thompson, Associate Editor
Flexibe Packaging
When PFFC first met the Prairie State Group ("Breaking New Ground," September 2003, pg. NW10), the established label converter led by president Rick Heinzen was riding high on the purchase of an Evolution press from Paper Converting Machine Co. (PCMC), which along with a 20-in.-wide Omet eight-color press, became a catalyst for bringing the company success in flexible packaging.
With the 26-in.-wide Evolution, PSG is seeing even wider [web] horizons. Executive VP Graham Redding says flex-pack has been a huge boost for PSG in the wake of challenges that include a large pool of competitors and a lack of new label niches to explore. However, the transition into flex-pack isn't necessarily a smooth or easy one for everyone, Redding cautions.
"I think there are a lot of label people out there trying to make this transfer into flexible packaging, and some are finding it much harder than others," he says. "I think some people are going to attempt [it] and fail. A lot of people will be successful at it, but they will have to go through a lot of trials and tribulations, and it's going to take time and money."
"Our priority is to offer something our customer has not received from existing converters," adds Heinzen.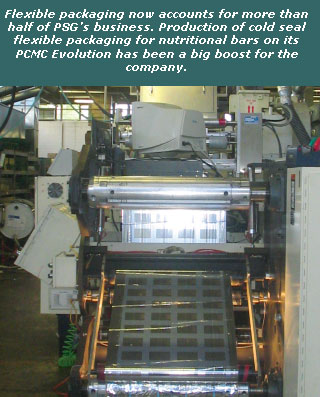 Lessons Learned
PSG's head start includes not only production of standard flex-pack but also features an innovative cold seal application to produce flexible packaging for nutritional bars, a growing niche in the food industry. After more than two years of R&D and formulation of a proprietary adhesive, PSG upgraded the PCMC Evolution with new dryers and in-line coaters and laminators to accommodate this new application.
According to Dan Doherty, VP of operations, cold seal flex-pack applications usually are performed on a wide web gravure press, so cranking out nutritional bar packaging on a 26-in. flexo press was a challenge, especially for a company whose business just a few years ago was predominately labels.
"A lot of gravure presses are wider, so it's very difficult when you want to get into special patterns," Doherty says. "The other thing with gravure is that you always had to run larger quantities. We took what we learned in the short-run flexible packaging market and we're doing the lamination in-line. With coaters that are in-line too, it's all happening in one pass."
The transition was not without its challenges. Redding explains, "We didn't have the background we needed to print flexible packaging, so it took time—it took six months of nothing but R&D just to be able to get a nice clean laminated sheet, and then the cold seal came along [a few] years later. We had our struggles with it initially, but with our relationship with our vendor, it came together very nicely. Unfortunately, I almost pulled the plug on the thing and Dan talked me out of it. Good thing!"
How did PSG stay motivated? Doherty says it was the goal of accomplishing what others deem impossible. "We like to embrace things that people say you can't do. A lot of people said you can't do one-way in-line on a flexo press. We did it. They said you can't do cold seal flexo. Yes you can!"
Continues Redding, "We built this company based on doing new products and not shying away from opportunities when customers wanted to go to the next level. Relationships with our vendors get us through hurdles that we've ultimately found the answers to."
With its "can do" attitude, PSG has built its flexible packaging capability to more than half of its business. A definite advantage, says Doherty, is being able to provide shorter-run quantities not traditionally favored by wide web converters. "There is a huge market, let's say one million pieces and under, that the wide web guys don't want to touch. There was so much of this out there, that it was a good opportunity to get that business."
Adds Heinzen, "We have focused heavily on servicing a market that has not been serviced well in the past."
With label and flex-pack capabilities, PSG is able to cross-sell to both industries, a commodity Doherty believes has turned the converter into a major player. "We had customers telling us they wanted us to do packaging and we said, 'sure.' Now the same customers are million-dollar accounts. There had to be a confidence level. We have built that confidence by proving we can do what we say we're going to do."
---
---
CONVERTER INFO:
Prairie State Group
11100 Addison Ave.
Franklin Park, IL 60131
847/801-3100; psglabels.com

SUPPLIER INFO:
Paper Converting Machine Co.—pcmc.com
Omet—omet.it
---