Published: August 07, 2012
ASHTABULA, OH | The Sortasaurus mobile work table from material handling product manufacturer Meese Orbitron Dunne Co., is now available with molded-in wings rising from all four sides of the table to help secure instrumentation,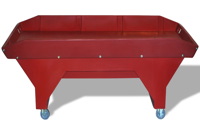 packages, machines, work in process, components for assembly, and other products, parts, and equipment.
This version is said to be ideal for packing and shipping departments, testing laboratories, electronics repair workstations, retail displays, and other facilities and settings where safeguarding the table surface from bumps, slips, and spills is paramount. Molded with designed-in hand holds in the wings, the table may be easily rolled, rotated, and lifted, company says.
This email address is being protected from spambots. You need JavaScript enabled to view it.