Published: September 01, 2010, By Edited by Claudia Hine, Managing Editor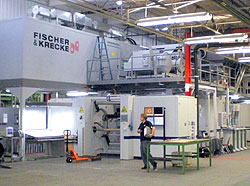 Hood Packaging plans to shape the future of the flexible packaging market with a new smartGPS-equipped Fischer & Krecke Model FP 26S press. The converter — a leading manufacturer of consumer and industrial plastic packaging — expects the press to deliver major increases in versatility, shorter changeover times, short run capability, and top quality two-sided graphics. Sustainability benefits reportedly will be achieved by reducing startup waste to near zero.
Combining size and power with agility is a tall order. However, Hood has managed to do it without compromise through the synergy that comes from bringing together vast experience and advanced technology.
Hood extrudes its own flexible materials, currently up to seven layers. The company has expertise in the conversion from rigid to flexible packaging, including in-house-developed technology for liquid packaging and form/fill/seal applications.
Converting capabilities include stand-up and quad-seal pouches, slider zipper and Inno-Lok bags, and a large variety of heavy-duty shipping sacks. That experience gives Hood the technical depth and production resources to develop new products to match the increasingly complex demands of the markets in which it operates.
According to Paul Gage, VP of sales and marketing, Hood also is taking the lead in environmental responsibility, reducing its carbon footprint and increasing levels of sustainability in all areas of its product offerings and operations. "The new F&K press has the capability, quality, and versatility we wanted," he says.
"Its extraordinary ability to eliminate waste supports our commitment to sustainability. SmartGPS is delivering the payback we anticipated, and it has the ability to handle even the most sophisticated jobs, providing the highest quality graphics with a consistency that is remarkable."
First Install in North America
Hood Packaging Corp. is a member of the Hood Group of companies. It has 17 plants strategically located throughout the US and Canada.
Hood Packaging's new Bobst Group member Fischer & Krecke FP 26S-8+1 CI flexographic press is the first smartGPS-equipped press to be installed in North America. It is now running in full production mode in the company's Calgary, AB, Canada, facility.
The FP 26S-8+1 is versatile, reportedly capable of exceptionally vivid colors and the highest grade of graphics, both front and back in a single pass, for the wide range of high quality consumer and industrial sacks, tubes, sheeting, "J" sheeting, and other products sought by Hood customers. With the new press operational in Hood's Bag Div., the company will continue to offer customers the highest quality products and service while making a strong entry into new flexible packaging markets.
The smartGPS technology eliminates the need to set impression and register. It is designed to virtually eliminate waste of substrate, ink, solvent, energy, machine time, and labor costs, while significantly accelerating changeover times and improving quality.
The press also is equipped with F&K's Extension, technology that allows increases in the repeat length by using multiple print units to print a single image. The first unit prints the first part of the image, and the next print unit prints another part of the repeat.
Extension makes it possible to multiply the FP 26S's 53-in. repeat as much as eight times. In this process, Extension, which is thoroughly integrated with the smartGPS system, is able to alternately lift each ink unit with all parts of the print design precisely matched to form a single, essentially seamless image.
Well-Planned Investment
Selection of the smartGPS-equipped F&K FP 26S took months of diligent effort on the part of a team led by Calgary general manager Gary Sutherland and production manager Malcolm Spenceley. They worked with the Bobst Group's Canadian partner, Kelly Roberts of Canflexographics, for 14 months, with a first meeting at the K Show in 2007. Three more trips to F&K facilities in Germany allowed for exceptionally close scrutiny of Flexpress technology, operating under production conditions.
Gage says the press is meeting their admittedly high expectations and requirements for quality, production power, agility, and sustainability. "As a company that takes pride in innovation, we are especially appreciative of the engineering creativity behind the smartGPS. This press has given us the competitive advantage to bring significant new value to consumer and industrial markets, including pet food and treats, food packaging, fertilizers, lawn and garden products, salt, chemicals, insulation, and much more.
"Our key customers are especially pleased with this new capability. By using technology to reduce waste, it makes environmental stewardship not only right but also good business."
Converter Info
Hood Packaging | 1222 34th Ave. SE, Calgary, AB T2G 1V7 Canada | 403-243-1138 | www.hoodpkg.com
Green Bag Wins Bronze
Hood Packaging's EB 1 bag earned a Bronze Medal in the Packaging Assn. of Canada's "Green Den" competition, which celebrates packages that enhance environmental preservation. Although EB 1 looks like a laminated bag and boasts similar grease barrier and strength properties, it is 100% recyclable as a polyethylene product.
Richard Pileski, sales manager at Hood's Burlington, ON, Canada, plant where EB 1 is produced, says, "We won the award because the group saw that not only is EB 1 fully recyclable, but it also eliminates the lamination step as well as the need to extrude a second film. As a result, when compared to a similar laminated bag, EB 1 uses significantly less energy to produce and substantially cuts greenhouse gas emissions."
Supplier Info