Published: December 14, 2009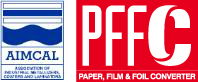 FORT MILL, SC | The Assn. of Industrial Metallizers, Coaters & Laminators (AIMCAL) partners with Paper, Film & Foil Converter (PFFC) to co-host a free webinar on February 10, titled: Contract Coating for Development or Manufacturing. Instructors Dr. Ed Cohen of Edward D. Cohen Consulting and Dr. Larry Gogolin of Gogolin & Assoc. will investigate the advantages of using a contract coater to provide technical and manufacturing variety for different markets; the chance to use another's expertise in driving technical, engineering, and operational efficiencies in business areas the coater may lack; as well as other considerations.
The free webinar begins at 11 A.M. EST and seats can be reserved for the February 10th event at: https://www1.gotomeeting.com/register/916310000.