Published: November 08, 2005, By pffc-online.com
PRESS RELEASE
TROY, OH—Spinnaker Coating received an American Graphic Design Award for their literature promoting their recently released Insight line of pressure-sensitive film on film products. The 'sales kit' features a fourteen page informational brochure, a letterpress and screen printed sample label of 2.0 mil TC Clear Conformable BOPP affixed to a bottle of hand sanitizer to show the product's clarity, and a custom designed box to hold the components.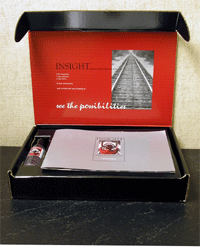 Spinnaker's piece was one of 10% chosen from approximately 10,000 entries in over a dozen categories. Award recipients will be published in Graphic Design USA magazine's December Awards Annual. The Insight piece was designed by Shauna Jackson, Communications Manager for the company.
The Insight line consists of 5 film facestocks (2.0 mil TC Clear Conformable BOPP, 2.0 mil TC Clear Polypropylene, 2.3 mil TC White Conformable BOPP, 2.3 mil TC White Polypropylene, and 2.6 mil TC White Label-Lyte®), 20-20 adhesive (an ultra clear, acrylic emulsion with very good wet out characteristics; manufactured with an extremely even coating profile), and 1.2 mil and 1.5 mil PET liners. The product line is stocked with the 1.2 mil liner on the trimless program.
Visit spinnakercoating.com for details on all Spinnaker products.
---