Published: March 23, 2004, By PRESS RELEASE
Düsseldorf, Germany—Müller Martini will showcase its latest web offset printing press, the Alprinta, at Drupa 2004. According to the manufacturer, the Alprinta features excellent print quality at considerably higher production speeds to compete successfully in the commercial and specialty printing markets.
Müller Martini states the following in regards to the Alprinta and its debut at Drupa:
In view of the greatly enhanced competition due to the economy, printers have developed into full-service businesses that require customized solutions. Müller Martini is responding to these trends in the printing industry with the Alprinta: its excellent print quality makes this new state-of-the-art web press economically viable for a wide range of applications.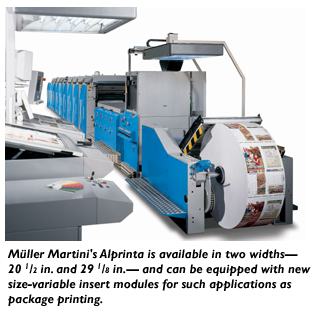 It is designed for the production of high-quality direct mail, commercial work, elaborate special products (like stamps or financial printing), as well as pressure sensitive or bottle labels on paper and other packaging applications including foils and film. Jobs can be die-cut, perforated, sheeted and stacked in one inline process.
The design of the new press is based on the proven design of the Müller Martini A-series press line. The Alprinta is available in two widths (20 1/2 in. and 29 1/8 in.) and can be equipped with NEW size-variable insert modules for special applications (e.g. for packaging printing) in ADDITION to the conventional fixed-size inserts. This enables a quick format change in repeat lengths ranging from 20 in. to 34 in. (or 508 mm to 864 mm) respectively. A new option for the inserts is the availability of repeat lengths in millimeter increments. This allows for inline production of DIN-formats without gap cutting.
Additional Features
On the Alprinta, each printing unit has an independent, high-performance servo drive. The press can be configured to run at speeds of up to 450 m/min (1,500 ft/min). The new inking unit features four form rollers that provide a consistent and optimum ink flow even at the highest production speeds. The dampening unit can easily be switched from an integrated to a segregated mode with the ink train by the push of a button. The dampening system was further refined with the objective of allowing for a more uniform application and dosing of the water film.
A new generation control system has been developed for the Alprinta. The menu-guided touch screen allows the press operator to communicate with the machine in an easy and straightforward manner. The automatic make-ready system eliminates the need for repeat entry of order data. This results in significantly reduced changeover time and waste. The Alprinta conforms with CIP3 and CIP4 industry standards. The press features an open architecture for data exchange with third-party systems.
Visit Müller Martini at
mullermartiniusa.com
.
---