Published: July 23, 2013
PATERSON, NJ | Located not far from the city limits of Chicago, The Garvey Group ranks among the top 100 printers in the country. Most everything the company prints is on a big scale, including up to 10 colors and packaging work for large items such as new television sets. But the mark of a strong organization is how well they do the little things, and the Niles, IL, company excels at it.
In 2007, The Garvey Group purchased a record-size 110-in., rebuilt Lawson paper cutter from Colter & Peterson, the largest independent distributor of paper cutters and paper handling equipment in North America. With business expanding and a need for extra throughput, they recently turned to C&P again and installed a new 110-in. Saber XXL paper cutter. Three months later, not only have they met the new work demands but have also improved the processing time for jobs off the press.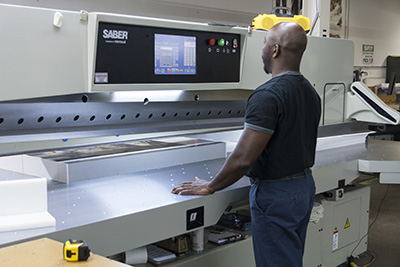 "We bought the Lawson and other paper handling equipment from C&P to go with our 60-inch by 80-inch KBA 205 press," recalled Joe Kulis, chief operating officer, who has worked at the award-winning company since 1986. "When business expanded, we needed another paper cutter with more modern capabilities. We spoke with a few companies including a local one, but we determined the Saber XXL was the best fit for us."
Kulis says his G7 master printer operation now includes two KBA 205s to go with a KBA 142 and a brand new KBA 162A that began producing work on July 1. In addition to the commercial printing and packaging work, The Garvey Group produces litho labels, top sheets, POP displays, and in-store signage. After three months of operation, the Saber 110-in. paper cutter is meeting or exceeding all expectations.
"The new C&P paper cutter is working well and has really helped us improve jobs off the press. It shortened our internal processing time and is relieving us of potential bottlenecks," remarked Kulis, who said an eight man team rotates crews of two to operate the three paper cutter systems.
Kulis said training went smoothly, with C&P leading the team through the operation of the new cutter over a two week period. They took the extended time to become familiar with the different layout of the Saber XXL-110, which offers unique safety features. That small yet important decision is paying off handsomely.
"The Microcut system on the Saber is impressive and saves us time, but the state-of-the-art electronics are something to see. This cutter has a set of electronic eyes and beams that stops it from engaging if people are in a certain area. The knife changing process is quick and user friendly. Our guys really feel safe with the Saber equipment and that helps their productivity."
This email address is being protected from spambots. You need JavaScript enabled to view it.