Published: November 30, 2012
EISENBERG, GERMANY | Langhammer GmbH has expanded its product portfolio with a unique combination of conveyor element and layer gripper.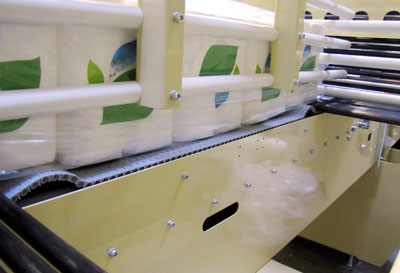 "The Wave" can take complete product layers from a conveyor lane and place these—independently of configuration or product—safely on a pallet. This makes "The Wave" interesting for many sectors in the consumer industry, and it can be used with almost all products. The system is particularly suited for paper because it does not put any pressure on the material and can be used to palletize sheeted paper.
Carried by a conveyor belt as if on the crest of a wave, the product is taken up by a split gripper apron while a four-sided compression aligns the layer formation on all four sides. In this way the product is transported safely and placed on the waiting pallet. It makes no difference if a full pallet or a half pallet, or a configuration with or without gaps, is being handled.
Typical clamp gripper systems apply pressure on the product layer and also require exchangeable form parts for configurations with gaps. "The Wave" positions the layer without pressure and exchangeable form parts for configurations with gaps are not required.
This email address is being protected from spambots. You need JavaScript enabled to view it.