Published: November 30, 2012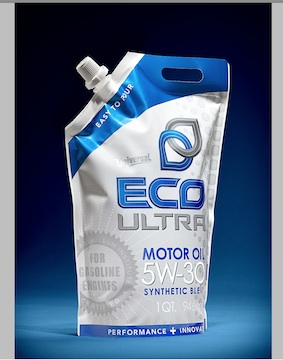 LAS VEGAS, NV | Officials with the 2012 Automotive Aftermarket Products Expo (AAPEX) awarded Universal Lubricants the 2012 New Packaging Award for Innovation for its ECO ULTRA FlexPak. The award was presented to Universal Lubricants during an AAPEX awards ceremony on October 29 in Las Vegas where the ECO ULTRA 1-qt FlexPak made its debut.
Universal Lubricants partnered with Atlanta-based Star Packaging Corp., which produces the tough, three-layer ECO ULTRA FlexPak, and the Innovative Packaging Network, which engineered the pour-spout that prevents the traditional glugs and bubbles from bottles that cause splatters and spills. Being introduced in the 1-qt size, the ECO ULTRA FlexPak is constructed using a polyethylene barrier that provides superior burst and seal strengths required for the rigors of oil. A larger, 5.1-quart FlexPak will be available next year.
As the nation's first retail motor oil packaged in a sustainable, flexible stand-up pouch, the ECO ULTRA FlexPak sets a new standard in US motor oil packaging. Compared to conventional hard plastic bottles, the new durable, lightweight FlexPak is made with 25% less material and offers consumers a faster, easier and cleaner way to change their oil. It also gives retailers and installers a unique opportunity to offer their customers a high-performance product in an environmentally responsible package.
"Packaging our high performance motor oil, manufactured with re-refined base oil, in flexible pouches is what we call eco-innovation," said John Wesley, CEO of Universal Lubricants. "The FlexPak's ease of use and environmental benefits make it good news for service centers, retailers, and consumers. We're thrilled that the AAPEX New Packaging Showcase has recognized this significant step forward in motor oil packaging."
The 2012 New Packaging Showcase award winners reflect the highest standards in packaging design set by the Inst. of Packaging Professionals. Ben Miyares, president of the Packaging Management Inst., judged this year's entries on five criteria:
The package demonstrates an application of a "new idea" or a creative use of existing ideas.
It makes use of new design, material, or technique.
The package successfully transfers packaging principles from other industries.
It reflects important new marketing strategies.
The package reflects new manufacturing advances.
Brian Votaw, business development manager at Star Packaging said, "Flexible plastic containers are today's hottest packaging trend. American consumers are most familiar with plastic packs in household cleaning products and in food and beverage containers. Initial research shows that mechanics and service technicians prefer the FlexPak to the bottle and we believe consumers will too."