October 25, 2012, Yolanda Simonsis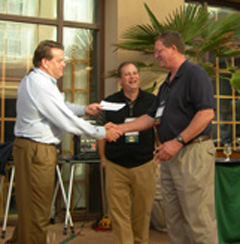 Coating & Laminating co-chairmen Mike Sellers (left) and Greg Williams congratulate Dr. Kelly Robinson, PFFC's Static Beat columnist/blogger, for winning the Matteucci Award for best paper: So, Should we Patent That?MYRTLE BEACH, SC | Dr. Kelly Robinson, president of Electrostatic Answers and popular contributor to the Paper, Film & Foil Converter—PFFC website with his "Static Beat" monthly column and "Kelly on Static" blog, receives the Assn. of Intl. Metallizers, Coaters & Laminators (Ft. Mill, SC) coveted Matteucci Award at the organization's annual Fall Technical Conference.
Held at the Marriott Grand Dunes resort in Myrtle Beach on October 21—24, Robinson's presentation, titled: "So, Should We Patent That?" was singled out by judging peers as best paper, while runners up in this tag team of presenters also were cited for excellence for a presentation titled "The ROI of IP," including Mark D. Miller of Coating Tech Service, LLC (another popular PFFC author of his monthly "Coating Matters" column and "Mark's Coating Matters" blog) and co-presenter Devan Padmanabhan with Winthrop & Weinstine.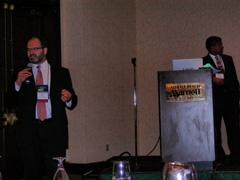 Coating Matters columnist/blogger for PFFC , Mark Miller and co-presenter Devan Padmanabhan of Winthrop & Weinstine are Coating & Laminating runners up for their paper on The ROI of IPDr. Robinson, as well as Miller and Padmanabhan, received recognition for presentations under the Web Coating & Laminating track, while Carolin Struller, working with GVE Ltd. as a student at UK-based Manchester Metropolitan Univ., won the Matteucci Award for best Vacuum Web Coating presentation.
Attendance at Dr. Robinson's presentation, which was part of the Intellectual Property Session, appeared to swell as he tackled his chosen subject matter of patenting. Follow-up presentations by Miller and Padmanabhan grew attendance even further out of a full conference audience of 285+ attendees—among the best conferences staged by AIMCAL, according to executive director Craig Sheppard.
Robinson's paper proposed a likely scenario: The team has been working to solve an important production problem when it finally has a breakthrough solution that will make their customer very happy. At the wrap-up meeting, someone asks, "So, should we patent that?" Robinson details what a company's options are and how to make such a decision. He covers the pros and cons of four options and identifies the issues one must consider in deciding to move forward or not.
Miller and Padmanabhan's co-presentation on "The ROI of IP" offered a case study of how intellectual property creates value in the converting industry and what the impact is for vendors of the converting supply chain. The authors contend an investment in intellectual property provides innovative tools that will help converting companies improve products, tackle new markets, and develop new processes.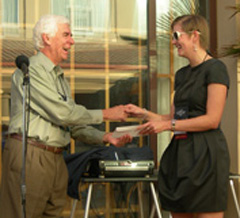 Co-chair of the Vacuum Web Coating session Greg Tullo awards Carolin Struller best paper: AlOx Barrier Layers on Polymer Web.The Barrier Session on the Vacuum Web Coating track applauded Carolin Struller for her winning presentation, titled: "AlOx Barrier Layers on Polymer Web." She explored the effect of various parameters on barrier levels for roll-to-roll AlOx deposition onto BOPP and PET via reactive evaporation, indicating that plain film surface chemistry appears to be the governing factor for barrier performance.
Additional highlights of these papers are anticipated at a future date, so stay tuned to www.PFFC-online.com.