Published: August 30, 2012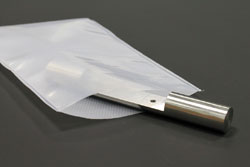 GREVEN/GRONAU/NUREMBERG | Nordenia Intl. AG is presenting a further innovative form of corrosion protection on the basis of a volatile corrosion inhibitor (VCI). The highlight of the new NorShield packaging is the specially embossed inner film with its high permeability to air. The product is celebrating its debut at the FachPack trade fair, which takes place in Nuremberg, Germany, from September 25–27 in Hall 7/7-301.
Last year, the NorShield AC (AntiCorrosion) had been introduced in the packaging market. The laminated composite, which is characterized by the extremely fast speed at which the corrosion protection atmosphere builds up, is particularly well suited for the secure packaging of products from the automotive and steel industries and machine and tool construction.
The distinctive feature of the newly developed NorShield product is its make-up: The adhesive and the VCI mixture are enclosed by an outer and an inner film. "Our previous NorShield solutions have been composites made from film, adhesive/VCI mixture, and nonwoven fabric," explains Product Manager Sonja Reinke. "Now, for the first time, we are presenting NorShield with an especially embossed inner film that has an extremely high permeability to air and releases the active substance just as quickly as the trusted products." On top of that, NORDENIA VCI products do not present any health risks and are recyclable.
Beyond that, the composite is characterized by its outstanding resistance to stretching and tearing. "The moisture-repellent outer film and the highly efficient VCI mixture combine to guarantee a particularly fast, long-lasting and perfect corrosion protection," emphasizes Reinke. All NorShield products have been tested and deemed good by the recognized VCI institutes in Germany, the Institut für Korrosionsschutz (IKS) Dresden GmbH and the BFSV e.V. Hamburg. In addition, they were tested by the Volkswagen Group according to its latest VCI standard and awarded the VW certificate.
This email address is being protected from spambots. You need JavaScript enabled to view it.