Published: April 16, 2012
EAGLE ROCK, VA | Gala Industries, a manufacturer of pelletizing systems and centrifugal dryers, reports new, larger facilities in Chonburi Province, Thailand, to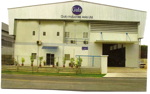 further establish its Southeast Asia business, support customers, and penetrate new growth opportunities. The new 12,200-sq-ft facility will house expanded operations, including a complete purpose-built underwater pelletizing system for customer trials.
Don Smith, managing director of Gala, says Thailand is a key Asian business hub because of its strong infrastructure, large petrochemical and plastics market, broad global automotive base, and friendly business ties with the US, which enables companies to assume 100% ownership of foreign-based entities.
The expanded space provides broad local support for technical testing and training services that will help assure global standardization of the company's underwater pelletizing systems.